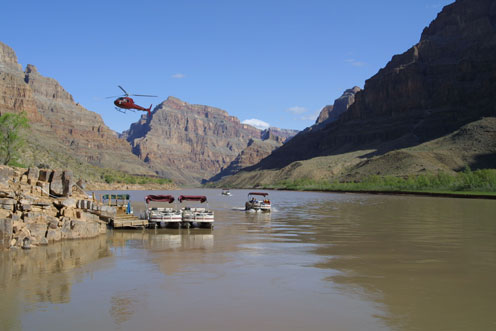 EXPERIENCE THE GRAND CANYON BY HELICOPTER, BOAT AND COACH!
This Grand Canyon helicopter tour will give you the opportunity to see the Grand Canyon from every angle, and you will have time to explore the rim on your own – the perfect opportunity for taking photographs of one of the Seven Natural Wonders of the World.
Your adventure begins with a luxury helicopter flight over the Hoover Dam and Lake Mead. You will descend 4,000 feet to land on the floor of the canyon. After you land, you will embark on a river boat ride for 12 - 15 minutes along the mighty Colorado River. You then ascend via helicopter up to the West Rim of the Grand Canyon for a shuttle bus tour of the rim. You will have four hours to explore the rim on your own, including a chance to partake in a complimentary lunch buffet at Guano Point. You can determine the amount of time you spend at each attraction, but you must catch the shuttle back to the helipad at the designated return time for the conclusion of your Grand Canyon helicopter tour.
Grand Canyon West Rim Attractions:
Eagle Point - Here you will find the world famous Grand Canyon Skywalk. The Skywalk is a bridge with glass floors suspended 4,000 feet above the canyon offering spectacular views of the canyon and the river below. You can also tour authentic recreations of Native American dwellings at Eagle Point. (Skywalk admission is not included but it can be purchased at our terminal in Las Vegas upon your check-in.)
Guano Point - This is where Hualapai Indians prepare a daily BBQ lunch for guests at the West Rim (included with this package).
Hualapai Ranch - Enjoy an authentic Grand Canyon western town experience, with photo opportunities, cowboys, and a trading post for souvenirs. Half-hour horseback rides are available for purchase.
Complimentary pick-up and drop-off by luxury stretch limousine from most Las Vegas hotels.
A narrated Grand Canyon helicopter tour hosted by your pilot.
Breathtaking views of the Hoover Dam, Lake Mead, the Grand Canyon, and the Las Vegas Strip.
A 12-15 minute river boat ride on the mighty Colorado River.
Helicopter ride up to the rim, a shuttle to Eagle Point, Guano Point, and the Hualapai Ranch.
Complimentary Hualapai BBQ lunch at Guano Point.
4 hours at the Grand Canyon West Rim to explore on your own.
Now offering an EC-130 helicopter upgrade to our fleet. These helicopters are 23% larger, with forward facing seating, air conditioning, and wraparound windows offering unrestricted incredible views.
Note: Cameras, camcorders, cell phones, purses or backpacks of any kind are not permitted on the Skywalk. Secure lockers are available to store your belongings free of charge. Skywalk tickets can be purchased on the day of tour at the terminal prior to tour departure.
Duration
:

Approximately 6.5 Hours
Retail Price:
$671.00 per person
Includes:
Complimentary hotel pick-up and drop-off by luxury stretch limousine from most Las Vegas hotels with BBQ lunch provided by the Hualapai Tribe
Excludes:
Souvenirs and gratuity.
Starts:
6:16AM | 7:54AM | 11:29AM | 1:14PM (Pickup time is usually 1 1/2 - 2 hrs. prior to start time). Tour departs from most Las Vegas hotels. Your pickup time will be sent to you after booking.
TO BOOK TOURS PLEASE CALL (702) 944-9388