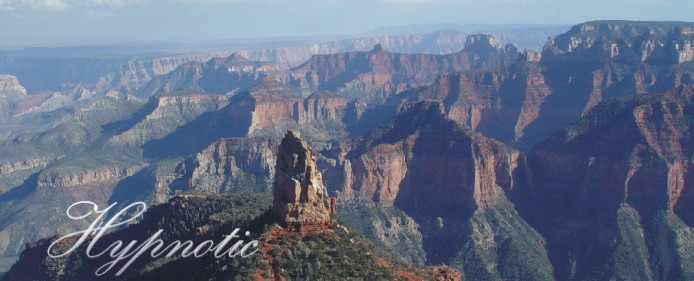 Most travelers to the Grand Canyon are familiar with the South Rim and the West Rim, but area locals have managed to keep the North Rim a secret. The secrets out! The North Rim is only 10 miles directly across from the South Rim (as a crow flies).
Everything is so different at the North Rim; vegetation, wildlife and the weather. The North Rim offers three viewing points: Bright Angel Point (Visitors Center), Point Imperial (the highest point in the Canyon), and Cape Royal (Angel's Window). Averaging 8000 feet in elevation, nearly 1000 feet higher than the South Rim. Extreme winter weather conditions allow the park to only be open from May 15 to October 15. It is a rare opportunity for anyone to visit the Canyon from the North, so don't miss this opportunity to see why area locals think it is the best side of the Grand Canyon National Park.
Tour includes a courtesy Hotel pick-up and drop off, nutritional morning snack with juice or bottled water, deli lunch (roast beef, ham, turkey or vegetarian), and of course unlimited supply of bottled water. Limited wheelchair access.
Tour requires minimum of 4 people If this tour is cancelled by Sweetours for insufficient passenger count you will be refunded for this tour and given the opportunity to move to the West Rim or South Rim tour with a $50 discount per person – tour must be taken on the same day.
Duration
:

Approximately 14.5 Hours Mon & Wed
Retail Price:
$189.00 per person ( Approximate Price)
Includes:
Complimentary hotel pick-up and drop-off by charter bus from most Las Vegas hotels.
Excludes:
Souvenirs and gratuity.
Starts:
6:00AM (Pickup time is usually 1 1/2 - 2 hrs. prior to start time). Tour departs from most Las Vegas hotels. Your pickup time will be sent to you after booking.
TO BOOK TOURS PLEASE CALL (702) 944-9388