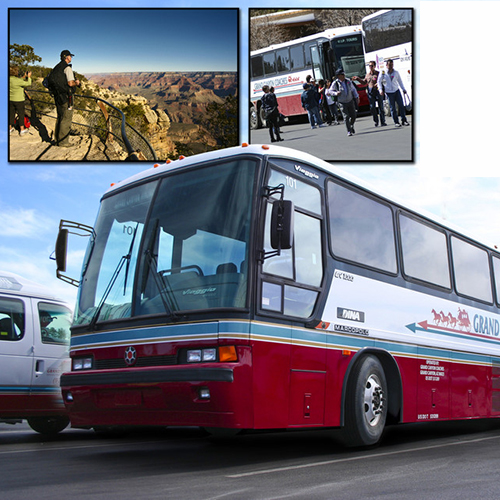 You're adventurous, have quite a few check marks on your bucket list, but know how to take your time and enjoy the finer things in life. You've found the Scenic Airlines. Beginning from the moment our complimentary shuttle meets you at your Las Vegas hotel, you will know you are about to experience something special.
You'll embark on your journey at Boulder Terminal, and soon be soaring above the majestic 700-foot high Hoover Dam and vast Lake Mead, well on your way to Grand Canyon National Park. Awe-inspiring desert vistas seen from a bird's-eye view, you'll arrive at Grand Canyon South Airport, ready to begin your exploration of Grand Canyon National Park, feet firmly planted.
You will stop by the Bright Angel Lodge and Mather Point, where the entire 10 mile expanse between the South and North Rim will open before you, the Canyon floor a mile beneath your feet. Enjoy the photo-op' of a lifetime, marveling at the Canyon's grandeur and immensity, you'll savor a box lunch.
Another adventure checked off the list, another wonderful memory made, you are a Grand Canyon Connoisseur.
Departure Location: Las Vegas
Destination: Grand Canyon South Rim
Tour Duration: 9.5 hours
Price:
$354.00
NOW $284.00 - ADULTS / $264.00 - CHILD

Complimentary hotel pick-up and drop-off
Charter flight from Scenic Airlines Terminal to the South Rim of the Grand Canyon and return
Guided Canyon tour for approximately 3 hours
One meal is included at breakfast or lunch
Multiple stops at the South Rim scenic overlooks
Air-conditioned motor coach with guide
Air-conditioned passenger aircraft
Fabulous views of Lake Mead, Hoover Dam, the Colorado River and the Grand Canyon
Large oversized windows for panoramic views and photos
Tour narration in 16 languages
Camcorder hook-up for tour narration
Photo opportunities
Free time to explore and souvenir shop
Tour company with a FAA flight certified safety record
Commemorative flight certificate available upon request or with purchase of personalized photo



| | |
| --- | --- |
| Hotel Pick-Up | Passengers are picked up from most major Las Vegas hotels. |
| Check-In | Arrive at our state of the art air terminal for check-in. |
| Flight to Grand Canyon | 1 hour 10 min en route and includes aerial view of Hoover Dam, Lake Mead, and the Grand Canyon. |
| Arrival & Transfer | Upon arrival at our private terminal guests board a waiting motor coach for transfer to the canyon's rim. |
| Grand Canyon National Park | Visit 2 of the most popular viewpoints with 20-30 minutes of time each for exploration and picture taking. A box lunch will also be provided. |
| Return Flight and Hotel | 1 hour 10 min. flight back to the terminal. Once you are back you will be loaded onto a motor coach and taken back to your hotel. |
TO BOOK TOURS PLEASE CALL (702) 944-9388