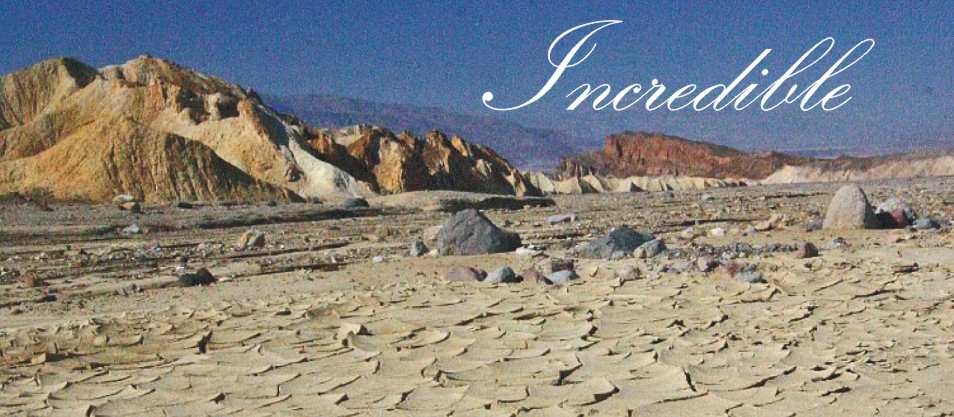 Your tour through Death Valley, the Largest National Park in the lower 48 states, will include scenic highlights such as Devils Cornfield, Stovepipe Wells, Mesquite Dunes, Salt Creek, Harmony Borax Works, Mustard Canyon, Devil's Golf Course and of course Badwater, a salt pan at 282 feet (86m) below sea level, the lowest and hottest elevation in North America.
We usually have lunch near the Death Valley National Park Visitors Center, where we'll pause to learn even more about this amazing place. With tours of 14 passengers or less, we'll also see the magnificent Dante's View overlook of nearly the entire Death Valley area from 5475 feet (1669m) above sea level (access up the winding road to the viewpoint is limited to smaller vehicles).
The geological history of this remarkable place will be presented in great detail as well, from the surprising Ubehebe Crater and the numerous alluvial fans of eroded debris throughout the valley, to the astonishing variety and colors of the minerals present in Artist's Palette. Your professional guide will explain the multi-million-year processes of plate tectonics and changing climate extremes which contriue to form this unique region of our planet.
A nutritional breakfast (juice, fruit and snacks) and a hearty lunch are included on this tour.
Duration
:

Approximately 13 Hours (Wed Only)
Retail Price:
$199.00 per person ( Approximate Price)
Includes:
Complimentary hotel pick-up and drop-off by charter bus from most Las Vegas hotels.
Excludes:
Souvenirs and gratuity.
Starts:
7:00AM (Pickup time is usually 1 1/2 - 2 hrs. prior to start time). Tour departs from most Las Vegas hotels. Your pickup time will be sent to you after booking.
TO BOOK TOURS PLEASE CALL (702) 944-9388