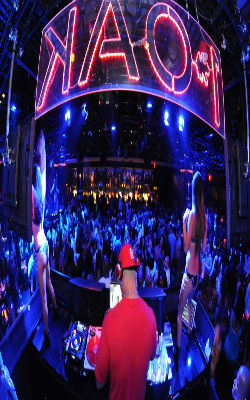 Every club claims to be unique, but there's only one with the chutzpah to make that statement its name: the "1 Of A Kind" 1 OAK.
The 1 OAK name is a New York City import, but when the party starts, there's no doubt that the vibe at 1 OAK is purely Vegas.

Located across from King Ink, near the parking garage entrance at The Mirage, 1 OAK is a modestly-sized club, but one that makes very good use of space. The 16,000-square-foot venue can offer two rooms, each with its own bar, Avalon Sound-designed sound and lighting system and music selection. The two rooms can also be combined (and often are) into one large room for capacity events. Expect to get your dance on to a combination of electronic, hip-hop and Top 40 in rotation, with more options on two-room nights and guest performances leaning toward pop and hip-hop artists.

One thing you'll notice upon entry is that 1 OAK is dark – and this isn't just a statement of the obvious about pretty much every nightclub's lighting.

The club hasn't simply turned the lights down, but the walls are black and the accents are all in dark tones, with aged brass framing much of the artwork on display. The artwork, created by famous artist Roy Nachum, adds a sexy vibe to an already intimate venue. Think sophisticated and avant-garde: 1 OAK isn't the place to have an off night. 1 OAK might not even know the meaning of "off night."

The centrally located dance floor is right up against the DJ booth, close enough to the main bar to grab a drink without having to make a long trek back when your favorite jam is playing. VIPs can get a table up close to the dance floor, or some more secluded seating near the second bar, as well. Performers, which have included the likes of Pitbull and Fergie, get a spot near the main dance floor, so you can keep close to the action.

If the thought of an intimate, sophisticated nightclub experience excites you, go ahead and put on your favorite outfit for a special night out. Every club is unique, but 1 OAK is... Well, we already went over that.

Hours of operation:
Tuesday, Thursday, Friday and Saturday, 10:30 p.m. - 4 a.m.

Cover price:

Front of the Line admission from $30.00. VIP table and bottle packages available from $1,026.95.

Payment information:
All major credit cards
Location:

Inside the Mirage

Music:

Hip-hop, Top 40, electronic and mash-ups.

Resident DJs:

Information not yet available.

Clientele/Age Group:

21 and older.

Attire:

Trendy nightlife attire.

Handicapped accessible:
Yes
Special events:

* Tuesday: One of a Kind Tuesdays with DJ Que.
* Friday: Friday Nights at 1 OAK with resident DJ Que.
* Saturday: Saturday Nights at 1 OAK with DJ Technicolor.
*Prices do not include all taxes and fees*