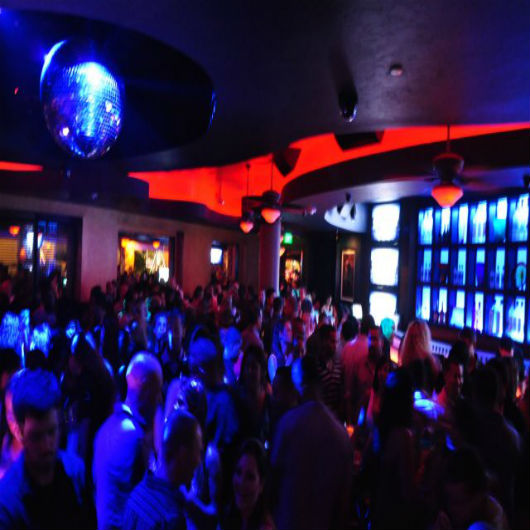 It doesn't look like a large space, but there's more to Blue Martini than meets the eye. You've got four bars and a wraparound patio that stretches around the front and side of the building. The room closest to the entrance has more of a straightforward bar feel, but with a nightclub chic look, with low red accent lights, cushy booth seats and dark wooden tabletops.

The main room (and the one with the biggest bar) features a stage for live bands, which typically play in the evening, along with a DJ booth for later in the night. As you might expect, DJs spin a mix of Top 40, hip hop and dance tunes, which usually gets the modest dance floor bumping on busier nights. In contrast to the red room near the entrance, this room has cool blue ambient lighting. And then, the wraparound patio has its own bar and is perfect for when you need to cool off and take in a bit of the scene after showing off your sweet dance moves.

Martinis are the main draw here with almost every permutation you can imagine and then some popping up on the menu. Their signature Blue Martini (Van Gogh blue vodka, Cointreau, Blue Curacao, sour mix and orange juice, served in an snifter over ice) has to be tried at least once. You'll also find a selection of wine and light tapas-style eats.

Coming back around to the nightclub aspect of Blue Martini, bottle service is also available. It's already much cheaper than many other clubs in town and even cheaper depending on the night of the week and your drink of choice.

So you have a chill lounge vibe, a straightforward bar ambiance, a dance floor with high-energy music thumping, an outdoor patio and food menu all in one place. But hey, don't worry about categorizing Blue Martini and instead enjoy it for what it is: A little bit of everything, done both affordably and cool.
Hours of operation:
Monday - Thursday: 4 p.m. - 3 a.m.
Friday: 4 p.m. - 4 a.m.
Saturday: 12 p.m. - 4 a.m.
Sunday: 12 p.m. - 3 a.m.
Cover price:

$5, Friday and Saturday nights only.

Payment information:


Cash, all major credit cards accepted.

Location:

Town Square
6593 S. Las Vegas Blvd.

Music:

Live music nightly, in addition to a variety of DJ-spun music.

Resident DJs:


DJ talent rotates.

Clientele/Age Group:

21 and older during nightlife hours.

Attire:
Handicapped accessible:
Yes
Special events:

Blue Happy Hour: Daily from 4 - 8 p.m.
Hospitality Blue: Every night is industry night. Industry workers get 50 percent off food and drinks after 8 p.m. nightly with proof of employment.
Wednesday: Girls Night Out! Drink specials for ladies.
Thursday: Latin Night.
Friday: Live band from 8 - 11 p.m.
Saturday: Ultimat Saturdays, featuring Ultimat Vodka.
*Prices do not include all taxes and fees*