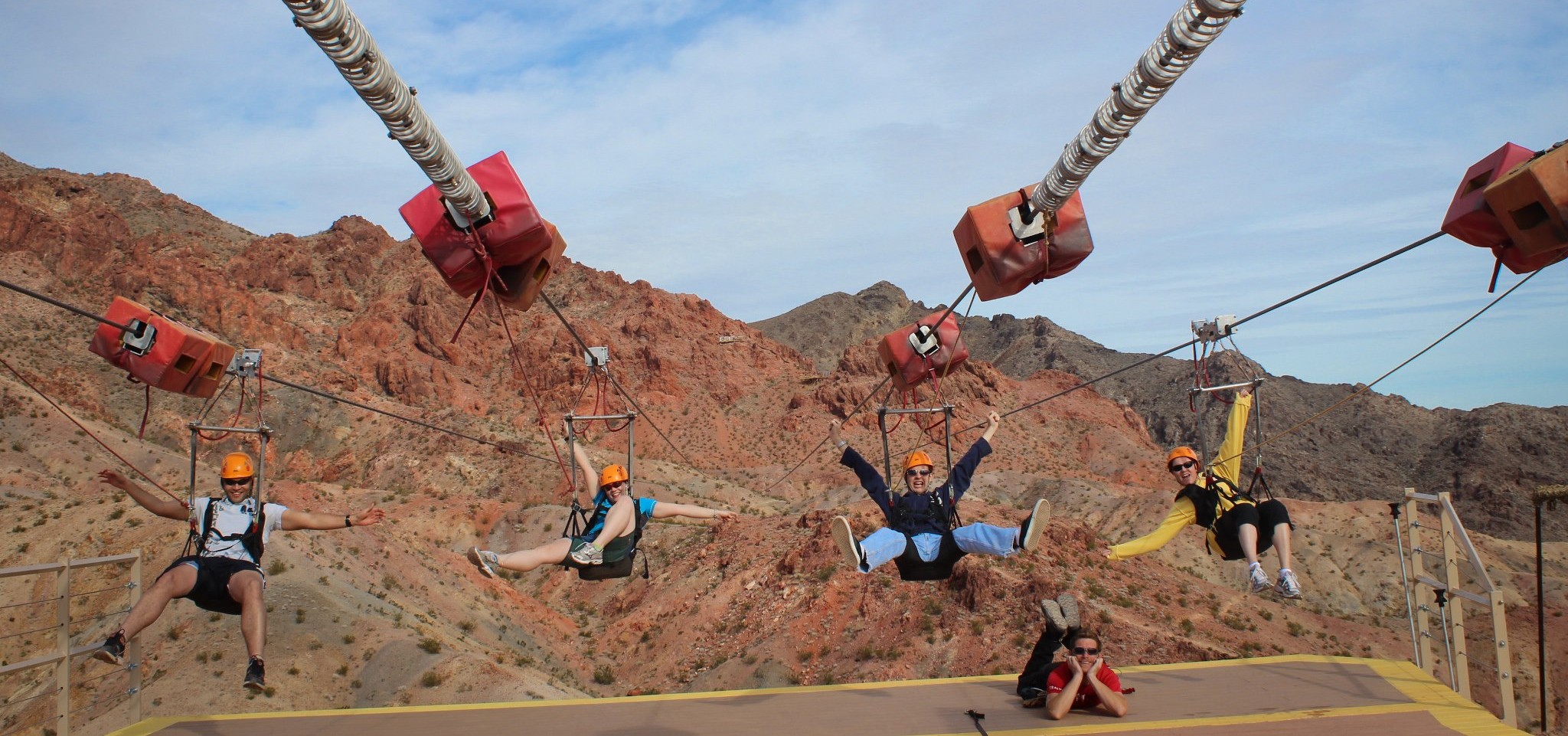 Bootleg Canyon Flightlines- As they say "When in Doubt Legs Out"! The entire tour package will last approximately 2.5 hour and covers a total of 1.56 miles. The guides carry water for you during the tour.
The flightlines range in length from 1,150 to 2,546 feet. The training/safety course is given before each tour followed by a scenic van ride to the top of the mountain. There you will have a short hike to the take-off deck where you will begin your descent down the series of four different runs flying across the canyons at speeds up to 60 mph.
Discover breathtaking views of Las Vegas, Lake Mead and the Eldorado Valley, while our eco-tourism guides take you on an interpretive journey over the desert ecosystem. Add to that some of the safest new patented technology, impressive distances, spectacular views, highly qualified guides, and you have BC Flightlines, the only areial trails system in Nevada.
Important Items
You must be between the weight of 75 - 250 lbs
You MUST be able to understand instruction and respond in a timely manner
You MUST be in tennis shoes or closed-toed shoes
Bootleg Canyon Flightlines is located in Boulder City, Nevada in the beautiful Mojave Desert. The aerial trail system consists of a multi-run and multi-line series of flightline trails. Instead of hiking or cycling down over 36 miles of trails in Bootleg Canyon, you are exploring the mountain from and aerial trail.
My Bootleg Canyon Flightline Experience
- By Kristen Palmer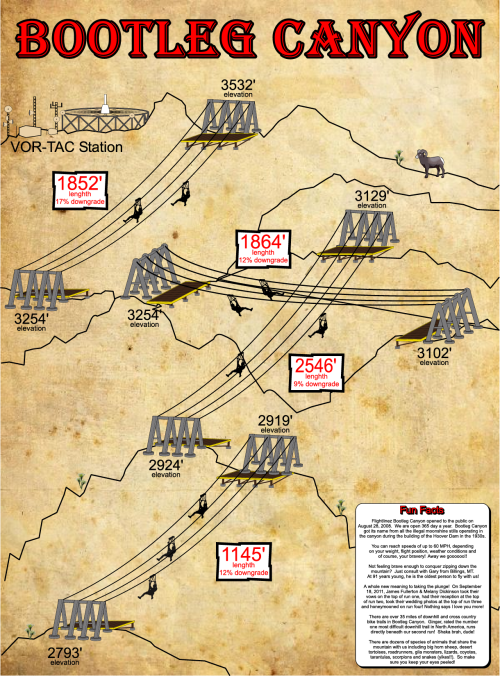 I am not much for outdoors but this tour was absolutely amazing. Driving out there was easy and directions were right on. We started our zip-line tour with a little short introduction on meeting our guides and how to use the equipment, nothing too long that could have you in a bore before the adventure even begins.
After, the safety session a small bus takes you to the top of Bootleg Canyon, The drive up was kind of neat because the guides give you a little history of what goes on on the mountain other than zip-lining. Once you get to the top of the mountain, there is a short hike to where the tour begins. The walk was a little challenging, but short. Don't be afraid to take your time. I went with a coworker who was terrified of heights but wanted to face her fear. She was hiking very slowly and one of our guides came up behind her and gave her some encouraging and supportive words, including "take your time" which kept her motivated to keep going.
Once you reach the first out of four runs, you see the beautiful view into Bootleg canyon, seeing all the way to Hoover Dam and Lake Mead is just a glance away. It was an absolutely a gorgeous view. So, next we saddled up for our first zip-line of four. The first run is super intimidating but after the first zip-line you quickly become eager to get on the next one. The guides were right when they said it was "zip lining on steroids." It was a thrill!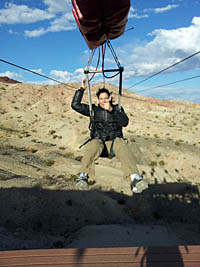 The guides were great with directions and very entertaining the whole way up and down the mountain. At each launching area, one guide would go down the line to catch us and one guy stayed with us to launch everyone off the ramp and then followed down the line to gear up for the next one. They told us that on most days they go up the mountain 3 or 4 times a day! You can tell they were telling the truth based on how effortlessly when down each line.
Each line was different, some were long distance, some were steep and fast, one was graceful and beautiful and all were amazing. At the end of the last one there was a sanding feeling because it was all over. I wanted to do it again and again. It was an awesome experience and our guides did a really great job making myself and my group comfortable and they weren't that bad to look at either. Thank goodness I'm local because I can't wait to go back again!