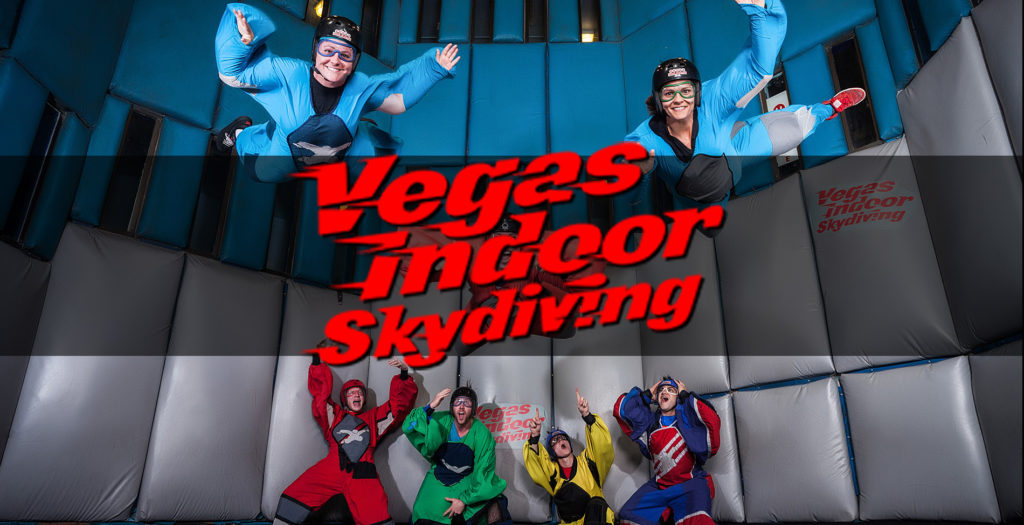 Vegas Indoor Skydiving operates the first indoor skydiving facility in America. Vegas Indoor Skydiving guests experience a body-flight, or simulated skydive experience. Located right on the Las Vegas Strip, the experience is similar to skydiving but with the safety of a mesh trampoline floor and foam padded walls. Guests experience a simulated freefall of skydiving without the use of an airplane or parachute, or the danger.
Vegas Indoor Skydiving uses a Vertical Wind Tunnel which produces more than enough wind to support the weight of an average adult. Each flyer attends a brief training class before they suit up in flight gear and then jump in the tunnel to fly. The experience takes about an hour to complete.
The mission at Vegas Indoor Skydiving is to provide a safe and memorable indoor skydiving experience to the general public, understanding that everyone will learn and grow at different rates, adapting to the ability of the flyer, and to encourage their development by sharing our love and knowledge of flight.
Who Can Fly?
The weight guidelines are as follows...
For Men
Male Over 6'0" 230 lbs. max. (over 182cm 105kg max)
Between 5'6" & 6'0" 220 lbs. max. (171cm & 182cm 100kg max)
Male Under 5'6" 180 lbs. max. (under 170cm 82kg max)
For Ladies
Women Over 6'0" 200 lbs. max. (over 182cm 91kg max)
Between 5'6" & 6'0" 180 lbs. max. (171cm & 182cm 82kg max)
Women Under 5'6" 160 lbs. max. (under 170cm 73kg max)
No Age Limit - Minimum Weight 40 lbs.
The Vegas Indoor Skydiving suggested height and weight restrictions are important. Guests who exceed the maximum weight are not guaranteed to generate enough lift to actually fly. Being outside the weight guidelines is not a safety issue as much as quality of flight. We don't want to take your money and then not be able to provide a high quality experience. Vegas gets visitors from all over the world. Depending on how someone is built, or if they are really tall, we can sometimes be flexible with the maximums. We are often asked why the restrictions are different for men and women, the answer is simply that men and women are built and carry their weight differently. Feel free to contact us if you have any further questions.
Things to do:
Dress in comfortable clothes with socks and sneakers.
The minimum weight for participation is 40 pounds.
Minors are required to have a parent or guardian present during flight training.
Things NOT to do:
Flyers are prohibited from participating under the influence of drugs and alcohol
No Pregnancy
Previously dislocated shoulders
No previous neck or spinal injuries
Las Vegas concierges is ready and waiting to help create your Vegas Indoor Skydiving adventure. Be sure to call us when you are ready for a ready great time!