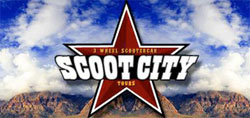 Scoot City Tours was founded on July 7, 2007 by John R. Yeager, III "Johnny". It started out as a rental/advertising company on the Las Vegas Strip. However, after two long seasons of tourists playing bumper cars with the scooters coupled with the large advertising budgets of a select few sponsors drying up, the company had to turn to an entirely different direction.
On a nice fall day in November, the Yeager family and one key executive, Micah Paul, drove from Summerlin to Red Rock Canyon in the 3 wheel scootercars to take their family Christmas photo. The instant the scootercars rolled through the gates of Red Rock Canyon, the entrepreneurial spirit of Mr. Yeager started to click. At that very moment, he knew he had to start a tour company.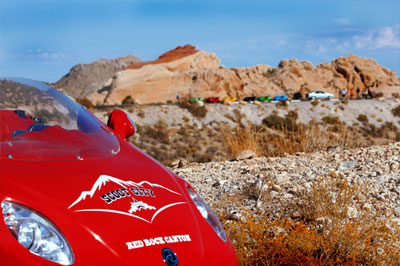 So……here's the story……about 10 tours in 2008. Lead to about 50 tours in 2009. Then social media and the power of the internet put Scoot City on the map in 2010.
Currently, we are proud to say that Scoot City Tours has truly become an international company with thousands of tourists from all over the world raving about the Scoot City Experience.
The pure energy and knowledge of our tour guides, parlayed with the never ending quest for superior customer service and safety, are three sure fire ways to do something out of the ordinary and make it absolutely spectacular!
Red Rock Canyon Scooter Car Tour
Tour Details
Pickup from Strip hotels and Golden Nugget downtown from one of our guides (shuttle driver is also tour guide)
Shuttle out to our starting location
Safety instructions and scooter operation info
Semi guided drive out to RRC as a convoy
SCT pays for admission into RRC
First Stop, brand new $23mm visitor's center and is also first bathroom stop
At least 3 other stops in RRC with one more bathroom stop
Plenty of time for pictures and mild hiking
Time permitting, stop at a local convenient store to buy snacks, ect. and also a 3rd bathroom stop
Travel back to our starting location near Red Rock Casino
Total driving distance in the scootercars is 35 miles roundtrip
Few minutes to buy SCT apparel
Shuttle back to Strip and downtown hotels
Approx. 4.5 to 5 hours of concierge service from our tour guides from pickup until dropoff
Las Vegas Strip and Downtown Scootercar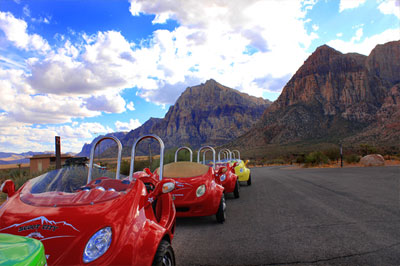 Just about everyone has seen the Las Vegas Strip before! Maybe you haven't seen it first hand, but probably on TV or the internet. But…..not many have seen it like this! Well now here's your chance. Wake up early with Scoot City Tours and see the world famous Las Vegas Strip in the most unique way possible…..from the seat of one of our 3 wheel scootercars! Yes, you can rent a car. Yes, you can hire a bus. Yes, you can take a cab. Heck, there are tons of ways you can see the Strip and Downtown Las Vegas. But you didn't come to Vegas to do something you've done before. You came to Vegas to do something different and that's why you wanna tour with us!