Have you ever imagined the experience of actually being behind the wheel of a 600HP NASCAR race car? Well Las Vegas is one place when you can make that experience a reality! This is it! Las Vegas Motor Speedway's top attraction, The Richard Petty Driving Experience. There is no better way to supercharge your Las Vegas visit than by taking on the track at speeds of 150 MPH and more! Whether you want to be behind the wheel or ride along for the thrill, you're sure to find an experience suitable for everyone!
Driving Experiences
Rookie Experience - $499
Get ready for our most popular program! Your hands are on the wheel, your foot is on the gas and you are in the driver's seat for 8 thrilling laps around the speedway in a 600-horsepoer NASCAR race car. The program lasts approximately 2 hours, the memories last a lifetime.
Rookie Tour at Las Vegas Motor Speedway - $549
Coming to Vegas? Try our Las Vegas Rookie Tour Experience where transportation to and from the Las Vegas Strip to LVMS is included with your driving experience. Along with an 8-lap Rookie experience you receive a tour of the Speedway facilities as well as the Richard Petty Driving Experience Shop, Las Vegas Strip pickup times and locations can be found at www.drivepetty.com
Experience of a Lifetime - $1349
Can you handle 30 laps of white-knuckled, heart-pounding speed? Improve your driving line, increase your speed and consider a career change during this "Experience of a Lifetime." The program lasts approximately 2 hours.
Racing Experience - $2699
Get ready for some serious track time during this 80-lap, 8 segment experience. This experience includes side-by-side tandem driving sessions and incremental increased speeds before concluding with a high-speed one-on-one finale. This program lasts approximately 5 hours.
Advanced Racing Experience - $3499
Take your driving skills to the highest level (prerequisite required). The very intense personal instruction makes drivers who take this 40 lap program feel like they are getting ready to take on "The King." This program lasts 5 hours.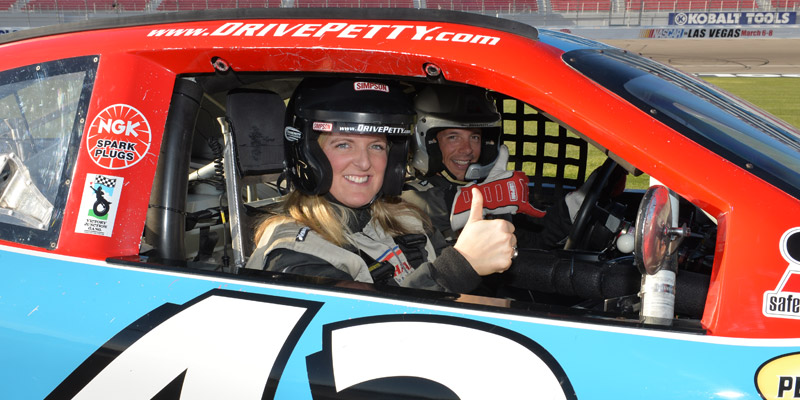 Ride Along Experiences
Ride-Along - $109
Experience real life racing thrills by riding shotgun in a 2-seat NASCAR race car driven by a professional instructor for a 3-lap qualifying run. The Ride-Along programs begin one hour after the start of the first scheduled driving class.
Las Vegas Ride-Along Tour - $159
The tour includes transportation to and from the Las Vegas Strip, a 3 lap high speed Ride-Along, an overview of the Las Vegas Motor Speedway and a tour of the Richard Petty Driving Experience Race Shop. Reservations are required. Las Vegas Strip pick up times and locations can be found at www.Drivepetty.com.
Ultimate Race Experience - $299
Our "Ultimate" team building experience for groups! From the passengers seat feel the thrill of racing against your peers in this relay-type program. This event consists of 6 – 10 laps (number of laps varies due to track size) from flag to flag as you experience side-by-side racing, drafting, passing and more.