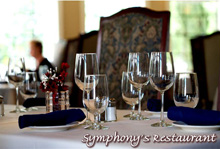 Looking for something fun and different to do? Why not a limo ride to Nevada's most awarded winery. Visit Nevada's oldest winery and restaurant by luxury limousine. A scenic one hour drive from the Strip and feature wines produced from quality grapes grown in Nevada, California and Oregon.
Walk the grounds, stroll the fully stocked wine and git shop, take a winery tour or enjoy lunch and dinner in the delightful restaurant, Symphony's named after the Gold Medal winning wine of the same name. So grab someone special and head out to the winery for great wine, food and fun.
Nevada's oldest and most award winning winery
Nevada's 1st commercial red wine, Nevada Ridge
Nevada's 1st Gold Medal winning wine/ 2005 Zinfandel
Featured on NBC's "The Today Show"
Personalized wine labels available for any occasion
Symphony's upscale casual dining, Zagat Rated
Open 10:30am for wine tasting and winery tours
Approximately 55 minutes from the Las Vegas Strip
Over 175 national Wine Awards since 2004
Dine By The Vines
Our "upscale casual" restaurant Symphony's, is named after our gold medal winning wine of the same name. While we are a white linen restaurant, we want you to dine lavishly yet dress comfortably. Our dress code respectfully asks that gentleman do not wear sleeveless shirts, headwear or flip flops.
Lunch
Lunch hours are 11:30-3 daily for lunch. We serve a variety of sandwiches, salads and lunch sized entrees. Prices start around $12. We are sorry, but we don't accept lunch reservations.
Dinner
Hours for dinner are 5:00 to close (around 8-8:30). We serve Prime Black Angus steaks, incredible seafood and pasta. Dinner entrees start around $17. We take dinner reservations and highly recommend them.
To enhance the dining experience, we do not prohibit, but do not recommend small children.
Larger Groups
Larger groups of 12 or more, because of the small size of our restaurant, MUST have advance reservations. Depending on group size may be required to order from a "pre-fix" menu with one check for the entire group. Unfortunately, larger groups without advance booking run the risk of not being offered service.
Because we are a small white linen restaurant with limited seating, we regrettably can only accept larger groups (13 or larger) with prior arrangement. We offer a semi private room with a long private table ( see photos above ) that will hold a maximum of 24 people. Please call at least 7 days in advance to check on availability. Depending on the size of your group, you may be offered a "pre-fix" menu with one check for the entire party. Agreement & deposit required before your group will be confirmed.
For groups of 24 or more, please call the winery Tue - Sat at 775-751-7800 and ask for Lisa about availability.
To ensure a pleasant experience for all guests, please plan well ahead and contact the restaurant for information.

Normal Hours:
Lunch 11:30-3 / Lunch reservations are not available, except on certain dates listed below.
Dinner 5:00-Close / Dinner reservations are recommended. Call 775-751-7800
Pahrump Valley Winery & Symphony's 3810 Winery Road, Pahrump NV 89048
Phone: 775-751-7800 / 800-368-9463
E-mail: This email address is being protected from spambots. You need JavaScript enabled to view it.
Directions:
We are located a scenic one hour drive from the Las Vegas Strip.
Take Highway #160 west.
Pahrump is about 55 minutes from Las Vegas on Highway 160. You will take a right at the first stop light (Winery Road), then half mile to winery.