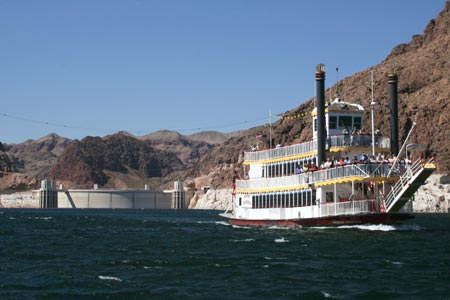 Just a few miles east of Las Vegas is the world's largest man made reservoir, Lake Mead and the incredible Hoover Dam. And nobody provides a better way to see and experience this amazing lake and incredible Hoover Dam tours than Lake Mead Cruises and their beautiful paddle wheel boat, Desert Princess. This beautiful, roomy, comfortable, vessel is a delightful experience and a wonderful way to experience the dam and lake.
Hoover Dam Tours
The Desert Princess was built especially to cruise the clean, blue waters of this picturesque place. Visitors and locals alike can enjoy Hoover Dam tours with a combination of spectacular scenery, good food and "Outrageously Great Tours!" on this beautiful lake aboard the Desert Princess.
Lake Mead Cruises - A short drive, whether you take a limo or drive on your own time from the valley of neon, great tours of Lake Mead and the mighty Hoover Dam await you... experience relaxing sightseeing cruises or seasonal brunch and dinner and dinner cruises aboard the Desert Princess, a Mississippi style paddle-wheeler.
Enjoy spectacular scenery and awesome food
Sightseeing Cruises and Hoover Dam Tours from February through Mid-October
Brunch and Dinner Cruises April through Mid-October
Landing Facility available for Weddings, Special Events, Birthday and Anniversary arrangements available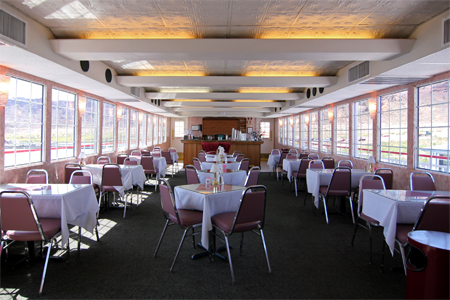 In addition to excellent tours of Hoover Dam and the lake, the Desert Princess can accommodate as many as 200 people for a sea bound wedding ceremonies. Lake Mead Cruises offers an excellent and ideal setting for weddings and receptions. As your ceremony is surrounded by the calm blue Lake Mead waters.
The facilities on-board can accommodate small wedding parties in a "Top Deck Ceremony" within the regular cruising schedule. For larger ceremonies or private charters for up to 200 guests, they offer an unique and memorable experience for the Bride, Groom, Friends and Family! With their authentic Mississippi River style Paddlewheeler and the caring staff will make your special day worry free.
If you are looking to create a special event for your family or friend or perhaps even a corporate outing, we can host your special event and make it one you wont soon forget. Either aboard the Desert Princess or in their spacious Lake Mead Cruises Landing, your party, meeting or reunion can be something extra special. You might want to try it in conjunction with a Brunch Cruise, a year 'round Mid-Day Sightseeing Cruise, or a Dinner Cruise. Whichever tours you choose, this is one unique opportunity to create and host something really special. To create your special Hoover Dam Tours and Cruise of Lake Mead, be sure to call Las Vegas Concierges. We can arrange your wedding, reception, or even corporate event as part of a spectacular and unforgettable experience.