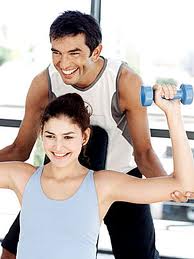 In-Home Personal Trainers - At Las Vegas Retreats and Las Vegas Concierges we believe in health, fun and well being. If you are a Las Vegas resident or a guest at one of Las Vegas Retreat's homes please allow Las Vegas Concierges an opportunity to assist you with a personal trainer that will come directly to your home for your daily workout. Whether you want to get in shape, continue your routine workout, or simply want to just feel great let our In-home personal trainer give you the workout you have been waiting for. Give yourself the gift of health. Take the time and do something good for yourself. The personal trainers can help you achieve a better look and better health while you enjoy the comfort and privacy of your own home or vacation home. Do something positive about your health and self image. Take the time today. What can you lose but a few extra pounds? Get in shape and forget the gym.
GOALS
Every person is different, so everyone needs a different exercise program. The trainers will work with you to achieve the greatest results, safely. You can expect to
Decrease body fat
Increase your metabolism
Increase energy levels
fell better about yourself
The Equipment comes to you!
Certified Personal Trainers bring the gym to you along with the knowledge and expertise to help you reach your goals. They will provide everything you need
Dumbbells
Medicine Balls
Resistance Bands
Swiss Balls
Bench
Nutritional Guidelines
Not sure what to eat? Nutrition plays a crucial role in achieving your fitness goals. A diet assessment and nutritional guidelines are included.
In-Home Sessions are 55 minute in length. Sessions include a fitness assessment, nutritional guidelines, cardio and resistance training. to schedule your in-home trainer give Las Vegas Concierges or Las Vegas Retreats a call, we would be excited to get you started!