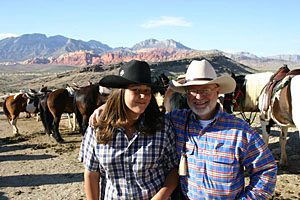 We are very proud to offer the excellent family friendly adventures of Cowboy Trail Rides Las Vegas. This is truly one of the best tours we offer for family and friends and for groups too. Especially anyone who enjoys the outdoors and being around beautiful horse and fun people. This one is a real winner and an unusual find for Las Vegas. We highly recommend Cowboy Trail Rides as a great addition to your Las Vegas adventure.
Cowboy Trail Rides is located only a few minutes from the Las Vegas Strip, in the heart of Red Rock Canyon National Conservation Area. With miles of riding trails in a magnificent desert setting, a herd of beautiful, well-trained horses, and a staff of professional wrangler-guides, our Red Rock Ranch beckons to guests who want to leave the city and the 21st Century behind. We know you are interested in offering a horseback adventure and a taste of real Western hospitality, we invite you to look through our attachments. Whether an experienced rider or novice, we have a ride--and an adventure--that is right for them. Group Rates are available.
Canyon Rim Ride
Ride your well-trained, gentle horse along a canyon rim high atop Fossil Ridge. View the colorful Red Rock Escarpment and Las Vegas Spring Mountains. Watch for desert wildlife. See ancient caves, fascinating geologic formations, and breathtaking views of the Red Rock Canyon National Conservation Area in the morning light. This ride leaves camp at 8 a.m. in the summer, 9 a.m. in the cooler months.
Ride Length: 2 hours
Ride Times: 8am (call for other times)
Transportation Available: Yes, call office for times
Price: $129 per person(Gratuity NOT included)
Sunset Trail Ride and Western BBQ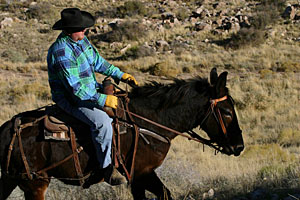 Follow the winding trail down through the narrows on the canyon floor, where erosion has carved natural dens for coyotes, bobcats, and other small wildlife. Watch for wild burros as you cross the mesa. Then, under a sunset sky, enjoy Red Rock Canyon and the majestic and colorful Las Vegas Spring Mountains. Back in camp, enjoy a Western barbecue under the stars. Step up to the grill for a thick, juicy steak*, grilled to your liking and served with all the fixin's -- green salad, baked potato, baked beans, corn on the cob, and beverages. For dessert, gather round the campfire for an old-fashioned marshmallow roast and s'mores. Hear a bit of Western history and perhaps a traditional poem, then join us in an old favorite song. Perhaps our most popular ride, the Sunset Trail ride is offered daily.
*Chicken, Salmon, or Vegetarian available by advance order only.
Ride Length: 1 hour 45 minutes
Ride Time: Two hours before sunset (call for departure time)
Transportation Available: Yes, call office for times
Price: $169 per person(Gratuity NOT included)
Red Rock Canyon Overlook
Even for someone staying in Las Vegas, this is an exciting ride. Your party will leave camp on the Canyon Rim Ride trail. You will quickly reach the top of Fossil Ridge and follow the edge of a 1,000-foot-deep canyon. Views are breathtaking all around. Instead of taking the turn where the Rim Ride begins its long descent back to camp, the Canyon Overlook Ride continues to climb along the rim, eventually rounding the head of the canyon. At this high vantage point, the Red Rock National Conservation Area will be spread out below you. You will find a place to rest and enjoy a lunch among the rocks and desert vegetation. Then you'll mount up again and make your way through the high desert to an old mining road before turning back toward the ranch.
This trip will give you a real taste of back-country riding. You don't need a lot of time in the saddle to take the Canyon Overlook Ride, but you will definitely feel experienced after you have completed it. If you are seeking a rewarding adventure ride, this one could be for you.
Ride Length: 3.5 hours
Ride Start Times: 8am (call for other times)
Transportation Available: Yes, call office for times
Price: $329 per person + 18% gratuity
WOW Ride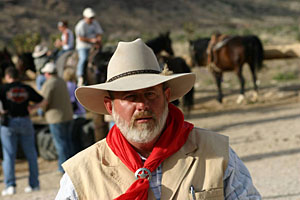 The WOW Ride is our premier back-country horseback excursion -- and an adventure you'll never forget. A recent guest described this ride as "like being in a dream."
The Wow Ride starts at our Red Rock Canyon camp in the morning (the exact time depends on the time of year). We will pack a lunch of sandwiches and drinks into our saddlebags, then we'll introduce you to your horse and mount up. The first few minutes of our ride will give both horses and riders a chance to warm up and get to know one another. Soon, the adventure begins.
As we ride into a near-by canyon, the trail becomes steeper and the canyon closes in, leaving a passage that climbs between vertical sandstone walls toward the top of the ridge high above. The terrain becomes more challenging and more visually stunning. Huge boulders jumble at the bottom of towering cliffs or perch on the sides of the narrow canyon. Barrel cactus and cholla, creosote bushes and yucca fill the canyon with a surprising variety of desert vegetation. Wild burros, peering from behind Joshua trees, watch our progress. You'll want to keep an eye out for wildlife. It occurs to you that you are, indeed, Way out West.
We will stop several times to give our horses a breather, to snap photos, and to marvel at how high we have climbed. After about an hour and a half, we'll reach the top of the ridge and stop for lunch. This is where the WOW Ride really earns its name. The view is incredible - far below lies Las Vegas, Lake Mead, and, on a clear day, the West Rim of the Grand Canyon. After lunch, we'll follow the trail along the cliff edge, soaking in the view. The desert appears untouched until we come across the remains of an old mining road, no more than a track through the sand and rocks. Across the valley, the pine-covered Spring Mountains tower behind the red and yellow sandstone of the Red Rock escarpment to form a backdrop for this amazing landscape.
This is how the Southwest must have appeared to its original inhabitants, to early explorers, and to 19th Century settlers. Seeing this countryside from horseback adds to the feeling that you have slipped back in time. It's no wonder the desert Southwest seems an enchanted place.
By mid-afternoon you will be back in camp. If you are like many of our guests, you'll find it hard to say good-bye to this beautiful country, to your wranglers, and, perhaps most of all, to the horse with whom you shared a unique experience.
This ride may not be for everyone. But if you have a spirit of adventure and the desire and stamina to challenge yourself with an extended back-country horseback ride, the WOW Ride is waiting for you.
Ride Length: 5 hours
Ride Start Times: 8am(call for other times)
Transportation Available: Yes, call office for times
Price: $329 per person + 18% gratuity
Red Springs Ride
The Red Springs Ride swings around behind the mountain east of our camp, then drops down into a narrow gorge. As your sure-footed horse carefully carries you through the gorge, keep an eye out for wild burros watching your progress from above. You will emerge onto a sandy trail through the Joshua trees and yuccas. The view of the Las Vegas Spring Mountains is outstanding. Your party will dip into a dry river bed and circle Overlook Mountain before returning to camp. This ride is a bit more challenging than Coyote Canyon, but still well within the reach of even first-time riders. More experienced riders will love the scenery and enjoy the time spent with our horses and wranglers. This ride leaves camp between midmorning and mid-afternoon and can be timed to accommodate your schedule.
Ride Length: 1.5 hours
Ride Start Times: 8am and 12pm (call for other times)
Transportation Available: Yes
Price: $99.00 per person - Gratuity NOT included (18% gratuity added to parties of 6 or more)
Coyote Canyon Ride
This ride leaves our camp and heads north down the wash toward our corral, then turns east through the desert. Watch for cottontails, chuckar, quail, and ground squirrels as you and your horse weave through a landscape of cactus and Joshua trees. You'll circle Overlook Mountain, taking in the views down into the Las Vegas Valley and across the desert to the red sandstone formations that give Red Rock Canyon its name. This one-hour ride is a good introduction to back-country horseback riding and a great opportunity to enjoy our horses and scenery for those who don't have time for one of our longer rides. The Coyote Canyon Ride leaves camp at several times during the day (after the Canyon Rim Ride and before the Sunset Barbeque Ride) and can be timed to fit your schedule.
Ride Length: 1 hour
Ride Times: Call office for available times
Transportation Available: No
Price: $69.00 per person - Gratuity NOT included (18% gratuity added to parties of 6 or more)
My Cowboy Trail Rides Experience
- By Kristen Palmer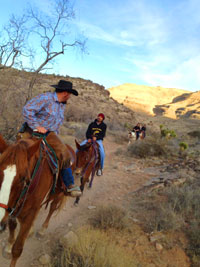 "The afternoon with Cowboy Trail Rides was a great experience. Starting with the directions to get there, just as you start to enter the Red Rock Canyon and pass the visitors center on the right (which the directions say to do) staying on the highway, and just as you think "Maybe I've passed it" or "I think I've gone too far," you'll see a big sign on the left that reads "Horseback Riding". Enter the gate and drive on the dirt road all the way to the top of hill where the crew and wranglers are waiting for you with open arms.
They were very nice people, sociable and funny. Almost family like and there was never a dull moment with them. Once you sign the terms agreement, get the basic "how to ride a horse instructions" and meet with the rest of your group, it's time to saddle up! We did the "Sunset BBQ Ride" which is a 3 hour ride around the canyon ending with a cowboy steak meal around the campfire. When you get on your horse (If you never been on a horse, don't worry, they will help you), your wrangler will lead you down into the canyon and into the beautiful scenery.
The ride was great! The most beautiful scenery and the horses were entertaining, gentle and very sweet. Our wrangler was very funny and made sure the whole group was getting along and were socializing (including the horses). He also told us many interesting facts about the Red Rock Canyon and the Eldorado Gold Mines. You get to stop a few times, not getting off your horse; while the wrangler helps you take some great photos. It was great the see all the horses personalities and how they communicated with each other while walking through the trail and rocks. We got to see many cool wild life, many rabbits and quail. The colors of the canyon walls were amazing having the sunset reflect off of them. We saw stunning images of scenery that were constantly changing, always something new to see around every turn and bend. The ride was beautiful.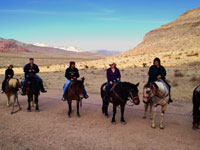 You can start to smell the steaks getting close to the end of the ride. Coming up that last hill and trotting over to the "hitching" area waiting for the wranglers to help get you down, you have one last photo opportunity with the horses. After you regain feeling in your legs again, you will walk over to camp where your steak and all the fixens are waiting for you. They can make a mean steak! The cook remembered how everyone wanted there meat and made it perfectly. After eating with your group and talking about the ride, it's time for "cowboy smores" around the camp fire. Sitting around the camp fire while listening to stories and singing cowboy songs, bonding with your group and the crew, was a great way to end a great afternoon. The smores were a great touch too, chocolate chip cookies with melted marshmallows. Yummy! The whole afternoon was fun experience I will remember for a long time and can't wait to recommend it to everyone."