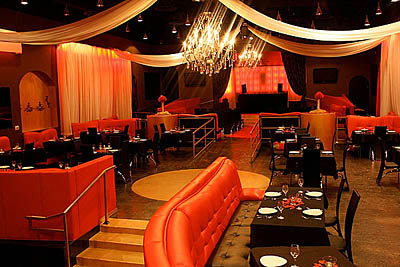 How long have you been looking for an event facility that will let you do it your way? One where you can comfortably serve your guests from a professional facility that isn't located in the back of a smokey casino? Don't waste time and money with the typical Las Vegas hosting facilities! Our event space can save you thousands of dollars and give your guests a wonderful and unique experience at the same time.
Imagine hosting in Las Vegas event space so unique and memorable that your guests will want to duplicate it for themselves. They will arrive to a wonderful and private location and will feel invited to something really special. Your event will be the one the stands out!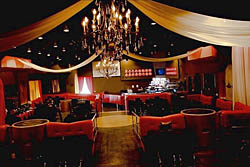 Situated in the beautiful Piazza Plaza, directly on Las Vegas Blvd, this great event space offers every advantage a host needs. Limo access, great parking, no neighbors to bother, professional kitchen, full bar, upscale furnishings, and plenty of mingle and lounge space for up to 300 people.
Our beautiful custom homes offer perfect compliment for hosting events in Las Vegas. Situated on a very large and private properties or located within a court of private homes, they offer many advantages. Inside you'll find gourmet kitchens, full bars, game rooms, theater rooms, upscale furnishings, and more. You can even elect to have regular maid service, laundry service, grocery delivery, and on-site food preparation.
Las Vegas Weddings, Wedding Receptions, Business Events, Product Announcements & More
Our vacation homes are completely furnished and include all the right amenities to satisfy almost any hosting requirement. Everything is all setup and ready to make your event as seamless and efficient as possible. All types of corporate events fit perfectly.
We also offer the Copa Room at the Bootlegger Bistro that can serve as a wonderful venue for events from 30 to 300 people. The Copa Room is perfect for corporate events as well as personal events such as weddings and wedding receptions. Thus excellent facility can be arranged to the best possible setup for your event, and almost any event is possible.
The Copa Room at the Piazza Plaza
Don't waste time and money with the typical Las Vegas events facilities when you can save thousands and give your guests a break at the same time.
Our vacation homes, condos and hotel suites offer easy access from any strip location on major east west boulevards and provide beautiful and dramatic venues to impact your guests. They will arrive to a wonderful private home and will feel invited to something really special. Your event will be the one the stands out!
The Perfect Compliment For Vacation Home Rentals
Las Vegas is truly the hotel room capitol of the world. Even so, we reserve more of our vacation homes for Las Vegas event hosting every year. As visitors learn of the many advantages, they keep coming back years after year. Many come with family and friends who book properties instead of a large group of hotel rooms.
Vacation home rentals are an excellent choice. Our event hosting customers in will enjoy some of the best vacation home rentals we have ever offered. Especially true when you consider that all our homes are managed and maintained professionally, and backed up by our exclusive 24 Hour Customer Service. And by exclusive we means that we are unaware of ANY other vacation rental company in Las Vegas that offers dedicated 24 hour customer service.
Private lodging, Away from Hotel Rooms and the Hustle and Bustle.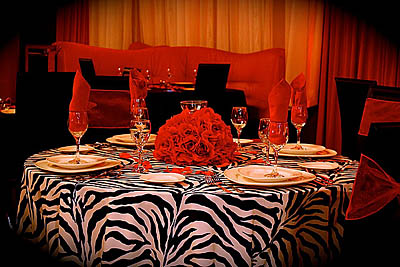 Maybe you're new to the idea of staying in vacation homes for hosting an event in Las Vegas? Vacation home rentals are the preferred solution!
Or maybe you like coming back to the same square hotel room every day? You enjoy the same restaurant food day after day, and look forward to spending few more precious moments with a thousand other tourists and their screaming kids down at the pool? Well, just in case you can pull yourself from that wonderful experience, consider that a vacation home offers privacy, quiet, space to move around, and all the comforts of home.
You wont be paying extra for the services you need. We include everything you'll want to with your home during your except of course, food and clothes.
Unlike most hotel rooms, our rentals include free Wifi Internet access, free Cable TV, free phone calls and much more. All you need to bring is clothes and food. Think about it, do you want to spend more money to access your email while you stay at a hotel?
And speaking of dining out, instead of being relegated to hotel rooms and hotel restaurants and eating out for every single meal of your stay, you'll be eating your own food in your own dining room.
The savings alone are worth the difference, to say nothing of the time and effort with reservations, standing in line, and tips for nearly everything. Event hosting customers are likely to save a fortune, just by choosing a vacation home over a hotel hosting facilities.
We have nothing against Las Vegas food. Some of the best restaurants in the world are right here in Sin City. But nothing compares to hosting and event with professionally prepared at-home dining. For your event, we recommend one of our fine professional chefs visit your vacation rental home and prepare a meal to your exact specifications.
To and From Your Las Vegas Events Locations
Many first time renters here in Las Vegas may have concerns about transportation to and from their events site. Las Vegas is the taxi Mecca of the world. Rides to and from event sites are cheap and plentiful. Limos are also available en mass and at exceptional rates. Lastly, rental cars can be had for a few hundred dollars for the entire stay.
Keep in mind, no matter which method you choose to get to and from your event, we have chosen all our recommended homes to be within moments of the main event site. Every home we offer at Las Vegas Retreats was chosen for proximity to the Strip, for amenities, and for it's suitability and attractiveness as a vacation home.
From our excellent inventory, we have chosen the best possible rental homes for the purpose of hosting events. No matter which home you choose, you are going to get one that has already been chosen for the same reasons you are using to make your choice.
When you combine the value and amenities offered by our excellent vacation homes with our 24 hour customer service, you have an unbeatable combination sure to please even the most demanding guest. Staying in our homes is much more like staying in hotel rooms, except without all the crowds and expenses. That's exactly the way we like it. You will too!
Be sure to call Las Vegas Retreats today for the best choice in vacation home rentals.