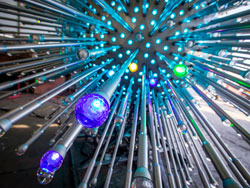 3641 S. Las Vegas Blvd.
Phone: 702-736-4988
Location:

Located at Bally's Las Vegas, at the intersection of the Las Vegas Strip and Flamingo Road.
DESCRIPTION
Every night is grounds for some serious celebration in Vegas, so why not ring in tomorrow by watching a massive sparkling ball drop at 9:00 p.m. and midnight? Move over Times Square, our ball drops 365 days a year and signals that the party hour is always upon us.
The Swarovski Midnight Celebration at the Grand Bazaar Shops is a three minute sound-and-light show featuring a 4,000 pound Swarovski Starburst. Measuring 14 feet in diameter, this sky-high installation is made of 900 custom-cut Swarovski crystal spheres and 1,800 points of LED light. The multicolored, continuously changing lights took 1,260 hours to create and are choreographed to sync with original music from around the globe.
For the first time since its founding in 1895, Swarovski built a free-standing pavilion to house the Starburst. The exterior is designed to look like one of the cut crystals they're famous for, so there are dozens of huge, angular facets. With all this glittering goodness soaring 55 feet above the Las Vegas Strip, you'll never have to wait for New Year's Eve again.
SWAROVSKI STARBURST DETAILS
Hours of operation:
Main Hours
Monday: 11:55 PM to 12:05 AM
Tuesday: 11:55 PM to 12:05 AM
Wednesday: 11:55 PM to 12:05 AM
Thursday: 11:55 PM to 12:05 AM
Friday: 11:55 PM to 12:05 AM
Saturday: 11:55 PM to 12:05 AM
Sunday: 11:55 PM to 12:05 AM
Cost:

Free

Payment options:

Not applicable.

Reservations:

Not applicable.

Location:

Located at Bally's Las Vegas, at the intersection of the Las Vegas Strip and Flamingo Road.

Age/Height/Weight restrictions:

None.

Type:

Shopping