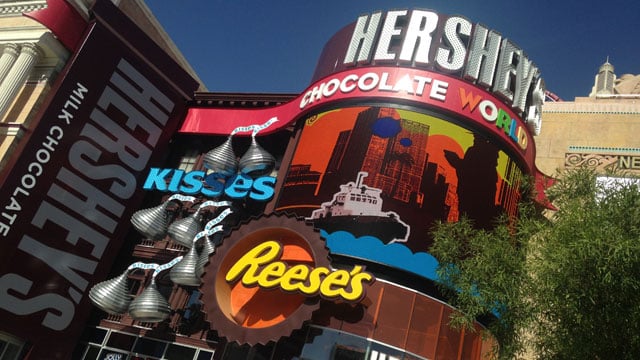 3790 S. Las Vegas Blvd.
Location:

Located in front of the New York-New York hotel-casino on the Las Vegas Strip.
DESCRIPTION
Are you ready for a two-story Las Vegas Strip sugar rush? Hershey's Chocolate World is sure to do the trick.
The 13,000-square-foot West Coast flagship store is packed with more than 800 types of Hershey's brand products such as Hershey's chocolate bars, jumbo-sized Hershey's chocolate and strawberry syrup bottles, Reese's peanut butter cups and pieces, Ice Breakers, Jolly Ranchers and Twizzlers. Downstairs there's a colorful wall of Hershey's Kisses dispensers for your bag-filling pleasure while upstairs are different flavors of Jolly Ranchers.
Hershey's Chocolate World sells plenty of momentos and gifts, including clothing, coffee mugs and other fun items, and even has a bakery counter offering delicious freshly made treats.
While you're shopping, you'll also come across several interactive experiences. Touch screens allow you to send your friends a virtual Hershey's Kiss, view a timeline of Hershey's history, design a candy bar wrapper or discover your ideal Reese's combination of chocolate and peanut butter.
Sweet photo opportunities include an 800-pound replica of the Statue of Liberty carved from Hershey's Milk Chocolate or a replica of the Empire State Building made from 1,800 Hershey's Milk Chocolate bars.
Hershey's Chocolate World won't do any favors for your diet, but it will make your Vegas vacation a whole lot sweeter.
HERSHEY'S CHOCOLATE WORLD DETAILS
Hours of operation:

Main Hours
Monday: 9:00 AM to 11:00 PM
Tuesday: 9:00 AM to 11:00 PM
Wednesday: 9:00 AM to 11:00 PM
Thursday: 9:00 AM to 11:00 PM
Friday: 9:00 AM to 11:00 PM
Saturday: 9:00 AM to 11:00 PM
Sunday: 9:00 AM to 11:00 PM

Cost:

Admission is free. Retail, candy and food items vary.

Payment options:

Cash, American Express, Discover, Mastercard, Visa.

Reservations:

N/A.

Location:

Located in front of the New York-New York hotel-casino on the Las Vegas Strip.

Age/Height/Weight restrictions:

N/A.

Type:

Shopping