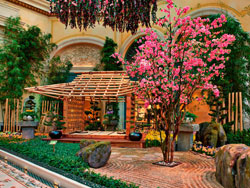 3600 S. Las Vegas Blvd.
Location:

Located inside the Bellagio hotel-casino at the intersection of Flamingo Road and the Las Vegas Strip
DESCRIPTION
Most hotels have gardeners, but the Bellagio has 120 of them. That's not including the designers, engineers and electricians who work behind the scenes to make all that magic happen. With 15,000-18,000 visitors to impress every day, you don't have to be a genius to understand why they need so many hands on deck.
Five times a year: Chinese New Year, spring, summer, fall and winter, the Bellagio Conservatory team creates a full-blown floral production. For an entire week, the staff work 24 hours a day to transform the nearly 14,000-square-foot space with tens of thousands of flowers, trees, and plants.
The horticulturalists, who are artists in their own right, create jaw-dropping displays that most people couldn't even make with paper, let alone flowers. It's pretty safe to say that they have more creativity in their pinky fingers than most of us do in our entire bodies.
During the course of each seasonal exhibit, more than 10,000 potted flowers are hand-watered and switched out every two weeks. Don't worry, all the wilted flowers are reused and converted to mulch, in fact 90 percent of the conservatory is recycled. How's that for green? These creations are so impressive that more than 5 million visitors a year come to experience them.
Upcoming Displays
Chinese New Year: Jan. 9 - March 14, 2015
Spring: March 20 - May 11, 2015
Summer: May 15 - Sept. 7, 2015
Autumn: Sept. 18 - Nov. 27, 2015
Winter: Dec. 3 - Jan. 2, 2016
Daily Events
Mr. & Ms. Green Thumb: 10:30 a.m. - 11:30 a.m.
Live Music: 4:30 p.m. - 6 p.m.
BELLAGIO CONSERVATORY DETAILS
Hours of operation:

Main Hours
Monday: Open 24 Hours
Tuesday: Open 24 Hours
Wednesday: Open 24 Hours
Thursday: Open 24 Hours
Friday: Open 24 Hours
Saturday: Open 24 Hours
Sunday: Open 24 Hours

Cost:

Free.

Payment options:

Not applicable.

Reservations:

Not applicable.

Location:

Located inside the Bellagio hotel-casino at the intersection of Flamingo Road and the Las Vegas Strip.

Age/Height/Weight restrictions:

Not applicable.

Type:

Garden