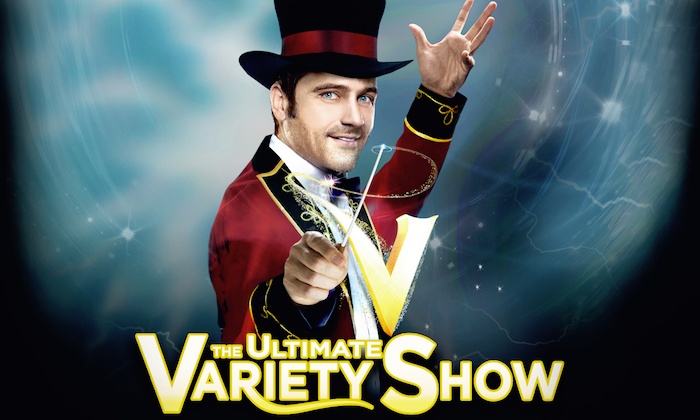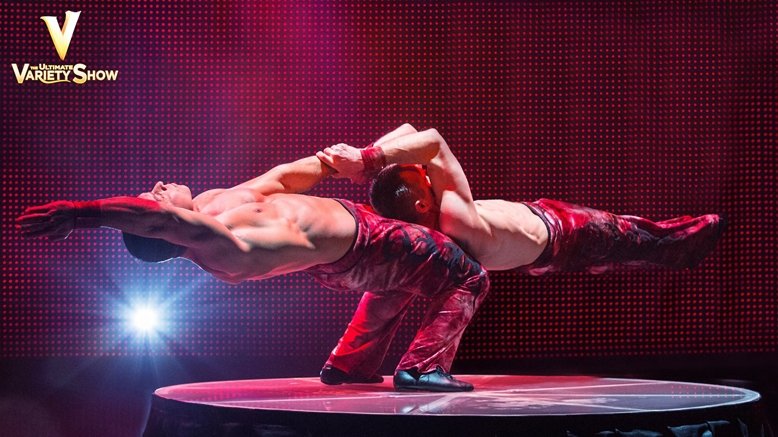 Don't blink, you might miss something. Actually, you might miss a lot. That's what audiences at V - The Ultimate Variety show will want to remember. This fast-paced, high-energy show features an exciting lineup of specialty acts from around the world. During the 75-minute revue you'll see about seven different acts take the stage.
New performers are constantly being added to the show's roster, so you never know exactly who you're going to see that night. Some of the recurring acts include: dancer/ street performer Turf, master juggler Wally Eastwood; the Skating Aratas; The Crazy Gauchos from Argentina Eduardo Lomé and Hugo Latorre; Ukrainian rhythmic gymnast Tamara Yeroffyeva; and comedian Russ Merlin.
The show's variety format stems from the days when shows used to feature a specialty act to supplement the main production. In some instances, those specialty acts became the stars of the show. At V - The Ultimate Variety Show, all of those stars get a chance to shine in one amazing revue. The varied lineup makes this show a great option if you're traveling with a group and looking for a show that has a little something for everyone.
Eastwood is both the host and a performer in the show. His infectious energy sets the pace for the whirlwind of talent about to take the stage. Eastwood has been described as having "the fastest hands on Earth," and it's easy to see why. He performs several different routines throughout the show, including juggling ping pong balls with his mouth and playing Beethoven's "Für Elise" by bouncing rubber balls on an electronic keyboard. Not only does he amaze, but Eastwood makes people laugh. His happy-go-lucky attitude paired with his self-deprecating humor is a winning combination.
The Skating Aratas kick things into high gear with their daring acrobatic skating act. Performed by husband and wife Victor and Jenny Arata, their act is done on a small platform on an area of the stage that extends into the crowd. Victor propels the duo in a high-speed spin while lifting and spinning Jenny in the air in a series of awe-inspiring poses. The limited performance space, paired with their risky routine is nothing short of amazing.
Show Times:
7:00 p.m & 8:30 p.m. nightly
Show Length:
75 minutes
Location:
V Theater, Miracle Mile Shops at Planet Hollywood
Age Restriction:
None
Prices:
Limited View - $32.99
General Admission - $46.99
VIP Seating - $61.99
VIP and a pre fixe dinner at Rainforest Cafe - $78.99 (click here for menu)
VIP and a pre fixe dinner at PBR Rockbar & Grill - $81.99 (click here for menu)


*Prices do include all taxes and fees*