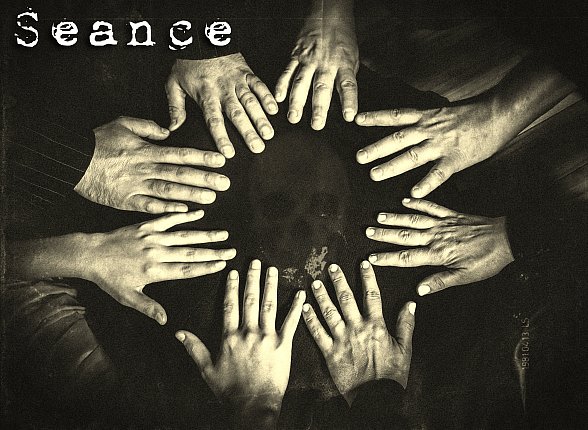 Séance creates an immersive experience that utilizes the same tricks as the spiritualists of 1932, making the audience question if they've contacted the other side or if it was all just an illusion.
Up three flights of narrow stairs and hidden within the walls of the Apache Hotel lies a secret room that was never supposed to be found by anyone, except for Benny Binion's inner mob circle. The room has witnessed many violent acts and is said to be home to many lingering spirits. This place is where Séance attempts to pierce through the veil, or at least convince the audience that it has.
The room itself is tucked away behind Benny Binion's penthouse suite, a preferred stay for celebrities like Humphrey Bogart and Lucille Ball. Binion was a high-level mobster, and any career criminal requires a solid getaway plan, so this secret mob haunt has multiple escape routes, including a breezeway that connects to the roof.
When you enter the secret mob counting house that was, for some unlucky souls, the last room they ever saw, the most prominent artifact on display is a gun in a plexiglass case. It was reportedly found in the breezeway covered in blood, the crime and culprit who left it there are unknown, but the negative energy is believed to still be attached to the weapon.
After your history lesson, your guide begins to contact 'the spirits.' The tricks include swinging pendulums, floating tables and flashing thermal cameras that make it difficult to decipher fact from fiction. After all, the Hotel Apache is known to have real hauntings. So is it all a spiritualist trick, or a real ghost trying to communicate?
Staff members have heard children's laughter in the counting room, leftover spirit energy from all those years ago when children would count the illegal money and then be rewarded with ice cream on hot summer days.
Séance may not open a portal to the other side, but it will give audiences an inside look into Sin City's dark and violent past.
Show Times:
6:00 P.M. and 9:00 P.M. on Fridays, 6:00 P.M. on Saturdays.
Show Length:
75 min
Location:
Seance Room inside the Hotel Apache, Binion's Gambling Hall & Hotel
Age Restriction:
21+
Prices:
General Admission - $54.99

R.I.P Experience - $218.99
(Includes a 30 minute behind the scenes look after the show.)
(Please be advised, cell phones are not allowed into the Seance Room. Cell phones will be placed into a lock box prior to entering.Some areas of the building may not be accessible to guests with mobility issues. Each person must sign a waiver prior to entering. Guests must be able to walk up at least one flight of stairs.)

(click here for seating)

Call (702) 944-9388 for reservations
*Prices do not include all taxes and fees*