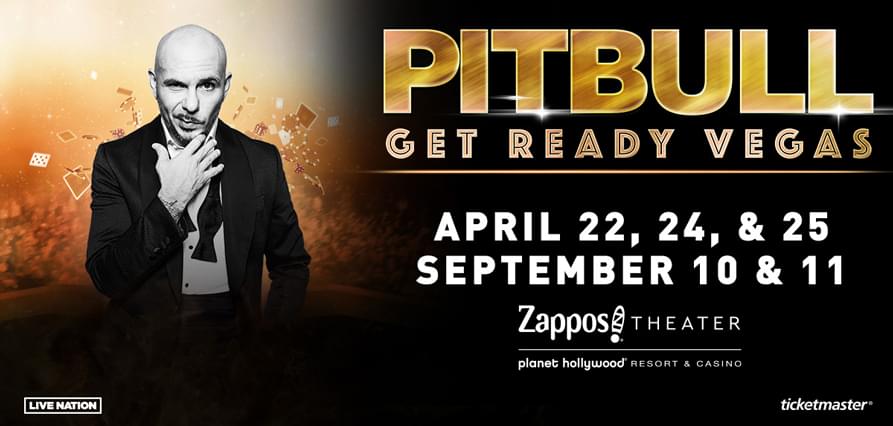 GRAMMY®-winning global superstar Pitbull will return to Las Vegas in 2020 for the sixth consecutive year with high-energy performances of his new residency, "Pitbull – Get Ready Vegas"
As much as the music of Pitbull defines a generation and soundtracks a global movement, the words and actions of the man born Armando Christian Pérez exemplify a commitment to inspiring both personal and universal revolution. As much as he elevated himself out of the streets and on to the international stage, he also heeded the call to grow from an entertainer to an ambassador of change. As much as listeners proudly recite the words to "Time Of Our Lives" or "Give Me Everything," they also fervently quote his equally unforgettable aphorisms turn a negativeinto a positive and dale! -- his signature phrase that encapsulates Pitbull's belief that anything is possible. As a result, he entrenched himself at the forefront of cultural, social, education, and popular conversations, bringing his brand of inspiration, influence and impact worldwide.
Over the course of 10 full-length albums, Pitbull's single sales have exceeded 80 million and YouTube views burgeoned past 15 billion by 2019. In addition to hundreds of gold and platinum certifications internationally, he has performed to concert audiences worldwide. Recognized for his talents, he has garnered GRAMMY® and Latin GRAMMY® awards. Moreover, superstars of all stripes and styles have sought him out for collaborations, including Jennifer Lopez, Chris Brown, Shakira, Marc Anthony, Ricky Martin, and Kesha, to name a few. A consistent headliner, he has not only performed for millions of fans worldwide, but he also took the stageat Planet Hollywood in 2015 for his Time Of Our Lives Las Vegas Residency, which ultimately resulted in multiple return engagements every year until its climactic close in 2019. In addition to the United States, his sold-out world concert tours have taken him to North and South America, Europe and the Far East. He has also completed headlining tours in China and Japan. Along the way in his journey, he has co-headlined with Enrique Iglesias, toured with Britney Spears in the U.K. and Europe, and spoken to thousands as part of Tony Robbins' motivational seminars.
Show Times:
9:00 p.m September 10-11, 2020
Show Length:
90 minutes
Location:
Zappos Theater, Planet Hollywood
Age Restriction:
6+
Prices:
Reserved - $55.99
Rear Orchestra & Balcony - $61.99
Rear Orchestra - $100.99
General Admission (standing room only) - $128.99
Front Orchestra - $147.99
VIP Reserved - $196.99
Call (702) 944-9388 for reservations
*Prices do not include all taxes and fees*