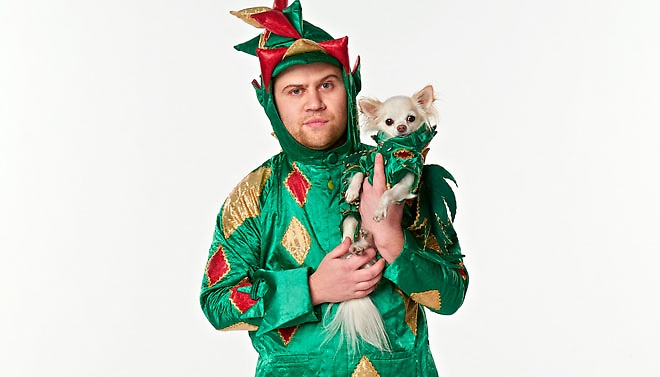 Ladies and gents, hailing from a magical land far, far away, Piff The Magic Dragon and his loyal pup, Mr. Piffles, are bringing their unique comedy magic to the Flamingo Las Vegas. In this intimate theatre you can enjoy Piff's Piff-tacular performance from no more than 30 feet from the Piff'ing stage
On the heels of his success with the famed reality television show,"America's Got Talent," and since touring with Mumford and Sons, this magical dragon is bringing big laughs and unexplainable magic to Las Vegas.
With a shtick unlike any other performers we've met, Piff and Mr. Piffles (the World's Only Magic Performing Chihuaua) will be wowing audiences with a collection of their greatest routines from their evolving magical repertoire.
In addition to the one-hour solo show, Piff The Magic Dragon and Mr. Piffles will be celebrating the holidays with"Piff's Piffmas Piff-Tacular," which will run Monday, December 21 through Wednesday, December 30.
Don't miss your chance to have a laugh and be amazed when Piff and his furry pal take the Vegas stage in Bugsy's Cabaret at Flamingo Las Vegas.
Show Times:
8 p.m. Sunday-Friday
Show Length:
75 minutes
Location:
Bugsy Cabaret, Flaningo
Age Restriction:
13+
Prices:
Main Floor - $38.99
Piff's Pre-Show Party - $127.99
- (Includes Premium seating, a photo and Meet & Greet with Piff, Mr. Piffles, Jade and Francis, a souvenir poster, a one-on-one magic trick with Piff, and a chance to win a Mr. Piffles doll. Meet & Greet takes place at 7:00PM inside Bugsy's Cabaret.
Call (702) 944-9388 for reservations
*Prices do not include all taxes and fees*