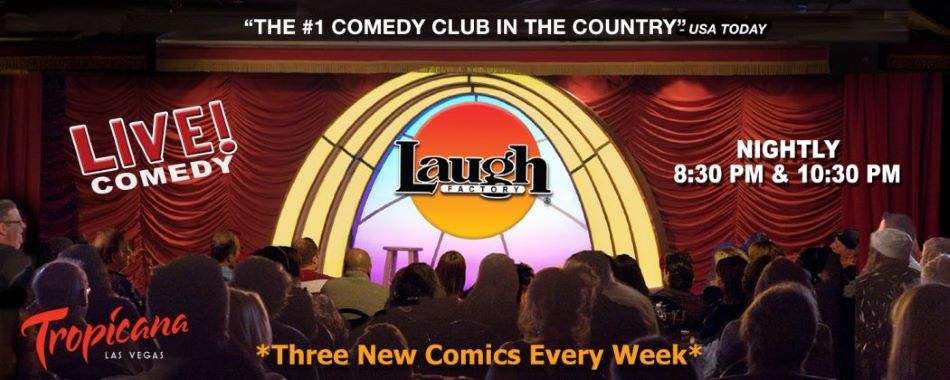 The world-famous Laugh Factory has a home in Vegas at the Tropicana. The comedy club features a rotating roster of established comedians and new rising stars of comedy.
The original Laugh Factory opened in 1979 in Hollywood and soon became known for spawning some of the hottest stand-up comedians in the world. Countless comics have performed at the Laugh Factory since its inception including: Tim Allen, Louie Anderson, Roseanne Barr, Milton Berle, David Brenner, Nick Cannon, Drew Carey, George Carlin, Jim Carrey, Dave Chappelle, Dane Cook, Rodney Dangerfield, Ellen DeGeneres, Phyllis Diller, Jeff Dunham, Jeff Foxworthy, Redd Foxx, Eddie Griffin, Kathy Griffin, Buddy Hackett, Bob Hope, Andy Kaufman, Sam Kinison, Martin Lawrence, Jay Leno, David Letterman, George Lopez, Bill Maher, Howie Mandel, Carlos Mencia, Mo'Nique, Eddie Murphy, Richard Pryor, Paul Reiser, Chris Rock, Ray Romano, Bob Saget, Adam Sandler, Jerry Seinfeld, Garry Shandling, Sarah Silverman, Jon Stewart, Wanda Sykes, Chris Tucker, Damon Wayans, Keenen Ivory Wayans, Flip Wilson, Robin Williams and many more.
As a starting point for so many successful comedians, the Laugh Factory has been recognized as "The No. 1 Comedy Club in the Country" by USA Today. With locations in Long Beach, Calif., Chicago and now Las Vegas, the Laugh Factory is known around the world as one of the premiere spots for comedy.
Show Times:
8:30 and 10:30 p.m. daily.
Show Length:
90 minutes
Location:
Laugh Factory Showroom, Tropicana Hotel
Age Restriction:
18+
Prices:
General Admission Seating - $36.99
VIP Seating - $41.99
VIP Booth - $69.99
Call (702) 944-9388 for reservations
*Prices do not include all taxes and fees*