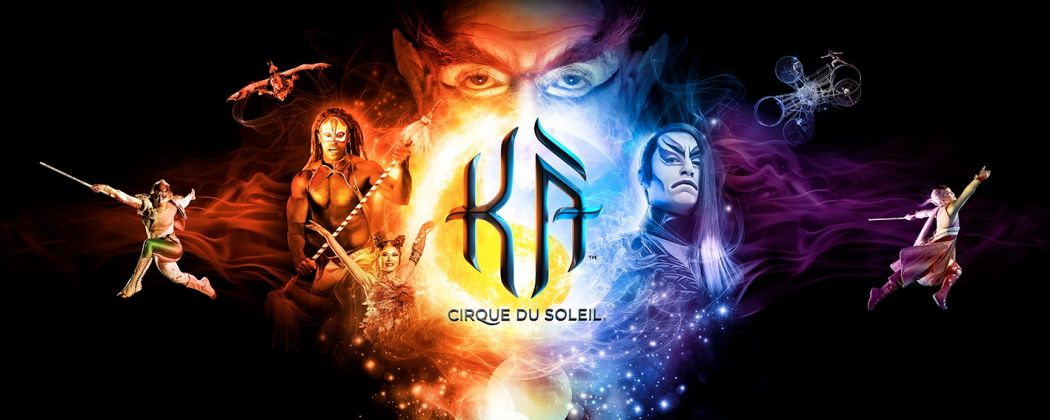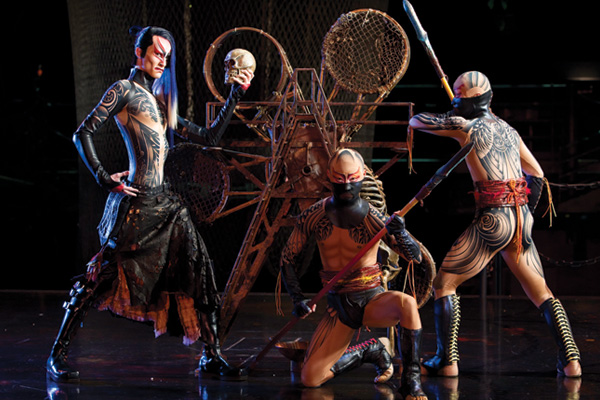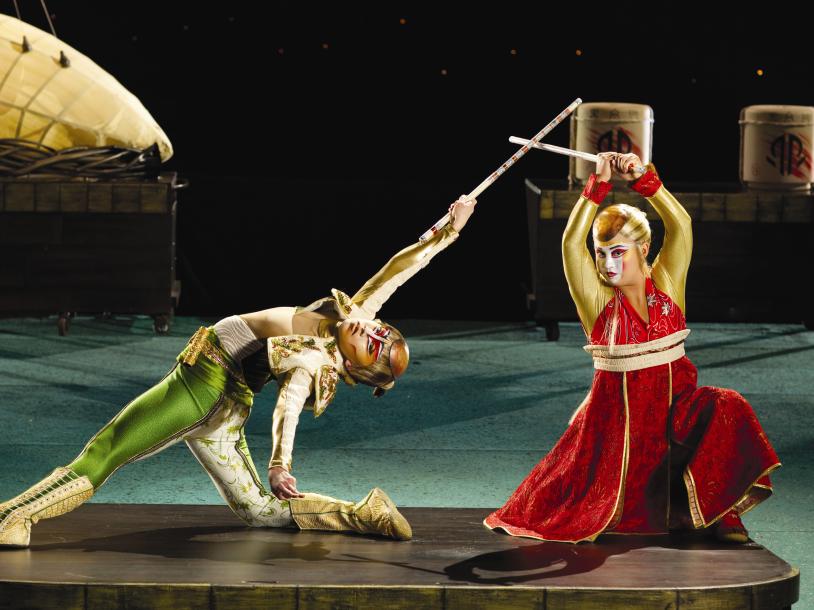 Truth is, there's a Cirque du Soleil production for just about every personality, mood and interest out there. And "KA," is for the action-loving, adventure-seeking show goers that can appreciate an age-old story of good versus evil. The storyline illustrates the journey of a brother and sister twin duo that becomes separated during a siege of their Far Eastern palace by evil warriors. Yep, this is a royal battle, y'all and they've pulled out all the stops.
The entire theater is designed to fit the theme so no matter where your gaze takes you, you'll be looking at the set. But you're really gonna love this: the stage is made up of two massive moving platforms that not only float, but turn completely vertical. Did you hear that? That was the sound of our minds being blown. And just wait until you see the suspended fight scenes.
Also, while it's insanely cool, not all the stunts are done in the air. The Wheel of Death, for example (ohmagah can you believe they have a Wheel of Death?), is positioned firmly on the ground while the daredevil performer flings himself into dangerous heights, where one misstep could lead to his demise. A story of intense battle, and a question of triumph or defeat to the very end, KA is entertainment on an entirely new level. Forreal.
Show Times:
7:00 and 9:30 p.m. Saturday-Wednesday
Show Length:
90 minutes
Location:
KÀ Theatre, MGM Grand
Age Restriction:
5+
Prices:
Category D - $82.99 (map)
Category F - $83.99 (map)
Category E - $88.99 (map)
Category C - $92.99 (map)
Category G - $93.99 (map)
Category B - $98.99 (map)
Categor A (golden circle) - $170.99 (map)

VIP Experience - $344.90 (map)
(Includes: Backstage tour, luxury box seats overlooking the entire theatre, exclusive meet & greet with KA artists, complimentary cocktail and popcorn, complimentary professional photo in souvenir folio. Ticketed guests should arrive at least 60 minutes prior to showtime for the Experience. Late arrivals will forfeit some or all inclusions.)
Please Call (702) 944-9388 for tickets
* Prices do not include all taxes and fees.