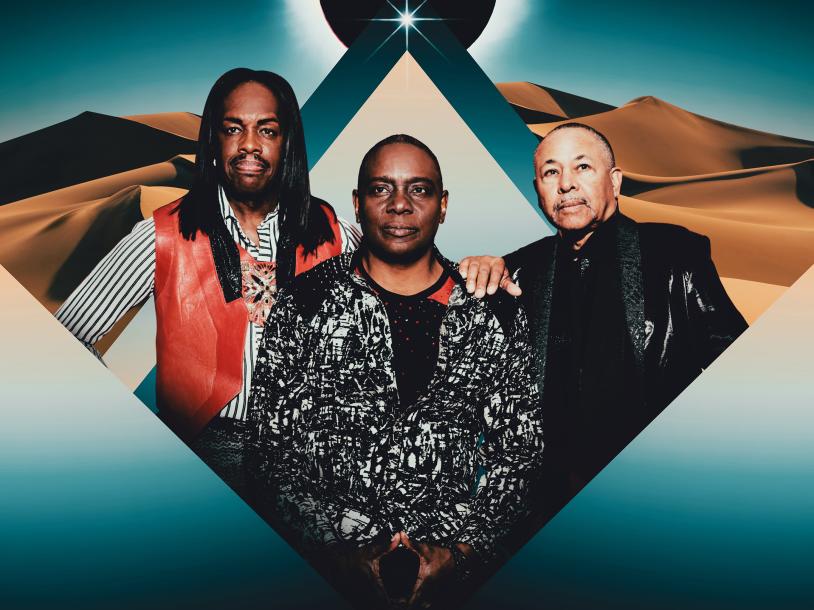 Earth, Wind & Fire, one of the world's top-selling musical groups of all-time was born in Chicago in 1969. With a signature sound beyond category and a groove as deep as the soul of the planet, the band's legendary journey has set the standard for music of all genres and made a profound and lasting impact on popular culture.
One of the most important, innovative, and commercially-invincible contemporary forces of the 20th century, Earth, Wind & Fire has released 23 albums. They have recorded eight #1 R&B singles and eight Double Platinum Top 10 Pop Albums. EWF has earned more than 50 Gold and Platinum albums and sold over 100 million albums worldwide, earning them a solid spot as one of best selling music artists of all-time.

Earth, Wind & Fire's career achievements and influences have impacted music history. They have been inducted into the Rock and Roll Hall of Fame (2000) and The National Academy of Recording Arts & Science (NARAS) bestowed its highest honor, the Grammy Lifetime Achievement Award in 2016, totaling nine Grammy Awards for the group. The ensemble has also earned Lifetime Achievement honors from ASCAP, NAACP, and the BET Awards.
Show Times:
8 p.m. November 18-21, 2020
Show Length:
90 minutes
Location:
The Pearl, Palms Casino Resort
Age Restriction:
6+
Prices:
Mid Mezzanine - $92.99
Front Mezzanine - $113.99
100 Level Box - $188.99
Call (702) 944-9388 for reservations
*Prices do not include all taxes and fees*