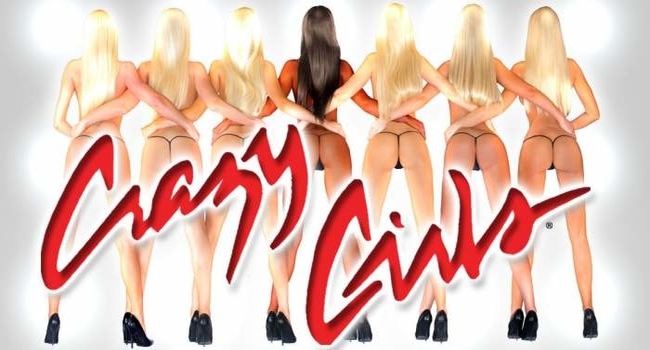 With its new move to residency at the Planet Hollywood Casino Resort, Crazy Girls is clearly a permanent fixture on the Las Vegas Strip. The ultra-sexy show has entertained millions of audience members, including famous faces like Nicolas Cage, Magic Johnson, Robert DeNiro, Joe Pesci and Tom Jones.
MSNBC calls the the bronze Vegas-Strip tribute statue one of the "World's Top 10 Good Luck Monuments." The story of how this image became iconic is filled with controversy that started in 1994 when Las Vegas city officials sought to persuade the Riviera Hotel and Casino, the previous home of Crazy Girls, to take down a billboard near City Hall. The show refused on the grounds that taking down the advertisement would infringe upon the girls' First Amendment rights. The bronze statue depicting the now internationally famous image was erected years later as a tribute to the Girls' successful fight; it has become an international symbol of good luck, and thousands of visitors visit the statue each year to rub the trademark bare bronze derrieres. Once again in 1999, Republican state Senator Bill O'Donnell declared the sexy ad showing the Crazy Girls' bare backsides too racy... pushing to remove ads from Las Vegas taxicabs. The Crazy Girls fought back and prevailed once again; the ads can still be seen on Vegas taxicabs today.The Crazy Girls' controversies didn't start there, however. Years earlier, Crazy Girls shocked Las Vegas by performing without tights - a testament not only to the show's willingness to make headlines, but also to the show's high standards for the athleticism and sexiness of its performers. With nearly everything laid bare, there was no question which show had the hottest girls in town.Las Vegas' most sizzling topless show still pushes the envelope night after night. Brand new routines are introduced that feature the scintillating professionally trained dancers performing world renowned choreography, a nod to its classic floor-show roots. Routines range from topless contemporary boot-stomping pole dance numbers to bawdy, burlesque classics. $500,000 in dazzling costumes adorn each girl, from Parisian-influenced topless outfits to black leather and spiked heels, but one thing is constant - the G-strings that accentuate the Girls' trademark derrieres.The always controversial and sexy Crazy Girls is a must-see show now only at Planet Hollywood.
Show Times:
9:30 p.m. Thursday - Tuesday.
Show Length:
75 minutes.
Location:
Sin City Theatre, Planet Hollywood
Age Restriction:
18+
Prices:
General Admission - $34.99
VIP - $59.99
Call (702) 944-9388 for reservations
*Prices do not include all taxes and fees*