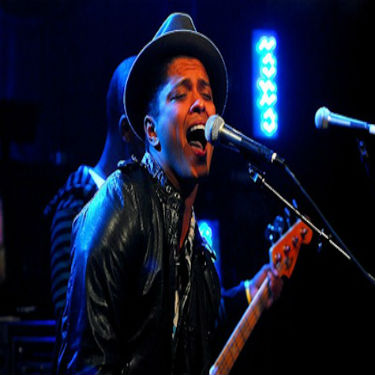 As the first musician to perform at The Chelsea, 13-time Grammy award-winning artist Bruno Mars brings a high-energy show to The Park MGM.
On opening night, Mars opened the vintage-inspired concert venue with a sold-out concert delivering what he does best: an electric performance that included his hits and original versions of songs by other artists, including Michael Jackson, Nirvana, Led Zeppelin and Bell Biv DeVoe.
"This is opening night, yo," Mars said to the screaming, enthusiastic fans. "This is it."
Mars and his band -- who bring to mind the Temptations with their smoothly choreographed moves -- performed his signature hits such as "Treasure," "Billionaire," "When I Was Your Man" and "Just the Way You Are" all while framed by an unique pyramid digital screen display that changed frequently and showcased close-up shots of Mars.
"The best $200,000 I ever spent," he jokingly told the crowd. It was just one moment in a performance that showcased Mars showmanship, talent and ease with the audience that are hallmarks of Vegas' great headliners.
Mars easily brought the audience to a crescendo roar as he repeated, "a little bit louder now" several times. Later he quipped, "I got so much hairspray in my hair right now, my eyes are burning. I'm doing it all for you, Vegas."
Mars exploded on the scene with the release of his debut album, "Doo-Wops & Hooligans," in October 2010. That album has since gone platinum dozens of times over. Grammys won include "Best Male Pop Vocal Performance" for his song "Just the Way You Are." In 2011, Time Magazine named him among the 100 most influential people in the world.
He has also been recognized for his work co-crafting hits for such artists as Alicia Keys, Brandy, Flo Rida, Lil Wayne and CeeLo Green.
Show Times:
COMING SOON
Show Length:
90 minutes
Location:
The Park Theater, Park MGM
Age Restriction:
5+
Prices:
Call for prices (702) 944-9388
(click map below for seating)

Call (702) 944-9388 for reservations
*Prices do not include all taxes and fees*