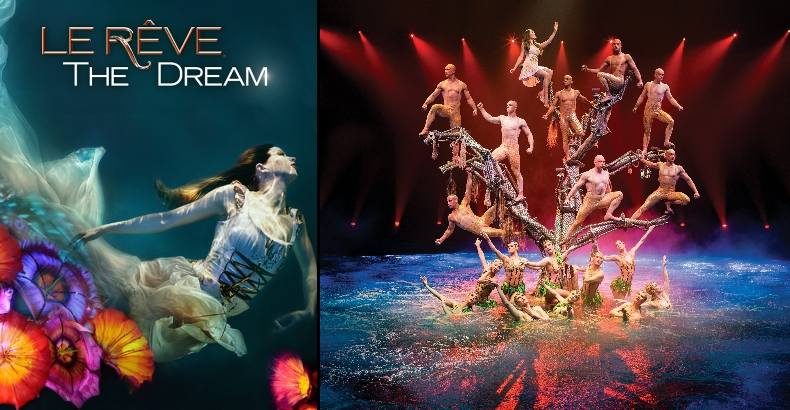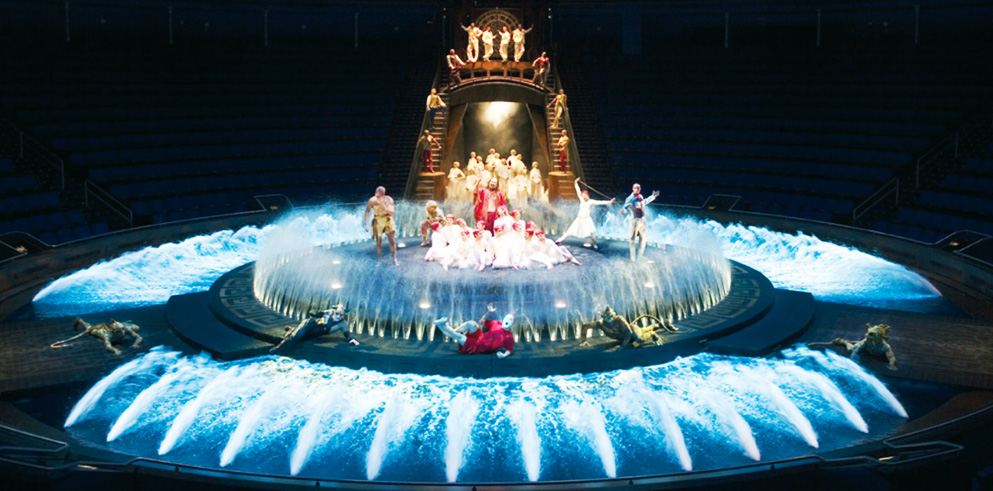 Leave reality behind and experience the fantastical world of Le Rêve, created by Franco Dragone, at Wynn. French for the dream, Le Rêve, depicts a colorful aquatic wonderland of beautiful and mystifying characters. The experience starts when you first enter the theater and realize that this is not your typical showroom. The circular 1608-seat theater is situated around a pool that is 68-and-a-half-feet in diameter with the furthest seat only 42 feet from the water. The 27-foot-deep pool is kept at a comfortable 89 degrees Fahrenheit. Not only does the in-the-round theater put guests at a unique vantage point, but it also makes them feel like they are part of the show as there is no clear line between the audience and the stage. Gymnasts, aerialists and synchronized swimmers appear from every angle, at times ascending from the water, descending from the high arched ceiling or running through the theater and alongside the audience. If you are seated by an aisle, you never know when you are going to look to your side and see a masked face or other curious character staring right back at you.
Le Rêve has a loosely woven storyline that begins with a woman and man dancing and then saying goodnight and goodbye to each other. The man departs the stage, and the woman lies down to rest on a bed. Together the woman and the bed slowly disappear underwater, signifying that her spectacular dream is about to begin.
Show Times:
7 p.m. and 9:30 p.m. Friday - Tuesday.
Show Length:
75 minutes
Location:
Wynn Theater, Wynn Las Vegas
Age Restriction:
5+
Prices:
Prices:
Poolside Seating (yellow) - $78.99
(Plush theater seats with up-close view of stage)

Golden Circle Seating (yellow) - $88.99
(Plush theater seats with best seating view of the stage)

Grandview Seating (orange) - $97.99
(Plush theater seats with a panoramic seating view of the stage)

Dream Seating (red) - $109.99
(Over-sized, plush VIP theater seating and private television monitors.


*Prices do not include all taxes and fees*