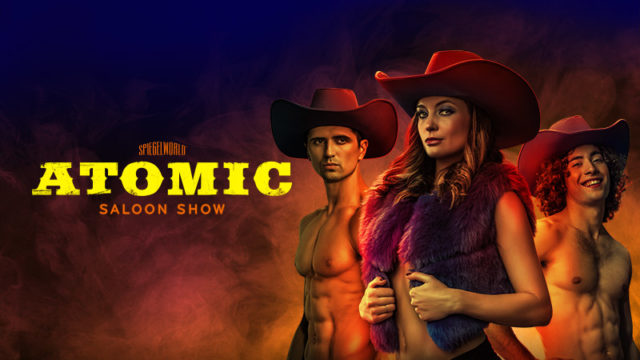 Madame Boozy Skunkton welcomes you to the wildest watering hole in town. Fast, funny and sexy, ATOMIC SALOON SHOW plays in Las Vegas's most intimate entertainment venue, a Wild West wonderland hidden inside Grand Canal Shoppes at The Venetian Resort. In its five-star review, The Times of London said, "It's like Blazing Saddles with sex on the brain. A ridiculously enjoyable show." And the Las Vegas Sun said, "ATOMIC SALOON SHOW is nothing short of riotous. It moves at breakneck speed and packs in maximum laughs-per-minute. There's comedy, dancing, quirky circus sideshow-style performances, aerialists and acrobats. This show makes you want to come back and see it again as soon as possible. Or maybe you just won't want to leave."
Show Times:
.8 p.m. on Monday and Tuesday. 7:30 p.m. and 10 p.m. on Thursday - Sunday.
Show Length:
90 min
Location:
Kraken Music Hall, Grand Canal Shoppes at the Venetian Hotel & Casino
Age Restriction:
18+
Prices:

P3 Bikini Atoll - $92.99
P2 Rodeo Active Reserve - $103.99
P1 Reactor VIP Reserve - $125.99
Boozy's VIP Booth - $249.99
- Includes a premium reserved booth with access for 4 guests and priority entry into the venue. Package price is per person with a total charge of 4 guests to a table. Package includes a $200 beverage credit for the booth ($50 per person).
(click here for seating chart)
Call (702) 944-9388 for reservations
*Prices do not include all taxes and fees*